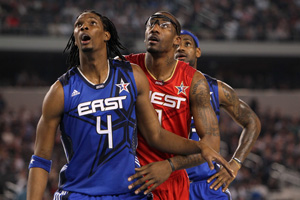 Now that the signing of
Amar'e Stoudemire
by the
Knicks
has been agreed upon (though it can't be finalized until Thursday), we have to look at several angles. But how Stoudemire will fit on the Knicks is a question that has yet to be answered, because there are other max free agents in play for the Knicks. We can't look at the impact for Amar'e without knowing who could really be playing next to him (KB has some
info on a possible sign-and-trade for a Knicks point guard
).
But what we can look at is if the Knicks made the right decision, committing close to $100 million towards Stoudemire. Amar'e comes with tremendous explosiveness and top-level scoring ability. But he also comes with significant questions as to whether he can play elite level defense, or even acceptable defense, and if he's a good enough player when he's not on offense. So the question is, would the Knicks have been better off if they'd managed to get
Chris Bosh
?
I took a look at the numbers on each player defensively
via Synergy Sports
. Synergy Sports tracks every moment of every NBA game and brings you an in-depth look, possession by possession, on how players do not only overall, but in certain situations. For example, their key stat is PPP, points-per-possession. It factors how many points are scored with a player as the primary defender, and then divides by the number of instances a player was in that certain play scenario. It factors turnovers, free throws, and points to bring you how many points per each possession a player gave up overall, and in certain possessions.
I looked at four specific play types breakdowns for Bosh and Amar'e in comparison: overall, pick-and-roll man (guarding the player providing the pick and rolling (as opposed to the ball-handler), isolation (pretty simple, one-on-one defense), in the post, and spot-up (off a pass in a catch-and-shoot situation). The results were pretty surprising.
| | | |
| --- | --- | --- |
| Play Type | Amar'e PPP | Bosh PPP |
| Overall | .86 | .89 |
| Pick-and-roll man | .76 | 1.13 |
| ISO | .95 | .65 |
| Post-up | .89 | .84 |
| Spot-up | .84 | 1.03 |
Right off the bat, Amar'e Stoudemire allowed fewer points per possession last season than Bosh did. The first thing that you'll say is that the
Raptors
' defense was a crime against basketball. And you're absolutely right. It's certain that Bosh's defense was impacted by how terrible the rest of his team defended. But the individual play types are kind of startling in terms of where he was good and where he was bad. The same can be said for Stoudemire. Pick and roll being the biggest alarm bell if you're a team out there still looking at Bosh as your signature big. Stoudemire, despite being known as a terrible help defender, was ranked 18th in the league overall as a pick and roll defender, one of the more complex defensive sets requiring combination and knowledge of where your teammates are.
But Stoudemire certainly struggled in ISO situations. If you put him straight up on a player, he gave up .96 points per possession, a far cry from Bosh's .65. And there were nearly twice as many instances of ISO defense versus pick-and-roll man situations. At the same time, help defense is something you can account for, and switching assignments is something Mike D'Antoni can do to alleviate a situation where Amar'e is getting taken repeatedly straight up.
How about the post-up numbers? I had anticipated a huge advantage for Bosh in this area, with a more physical reputation and Amar'e's notorious softness. Yet Amar'e is still allowing less than .89 in the post, and Bosh is at .84. A difference of .05 points per possessions? Not exactly what I would have expected.
Finally, spot-up, which deals with recovery, is probably the most affected by the Raptors' terrible defense. Bosh was repeatedly having to overcompensate to help his teammates, meaning his man was open for jumpers as he tried to cover too much defense to recover. It's a terrible mark for Bosh at 1.03 while .84 is reasonable for Stoudemire.
The big takeaway here is that Bosh is a better defender, no doubt. But the separation is not one where you would feel the Knicks made a horrific mistake in getting Stoudemire. Stoudemire's defensive numbers match up favorably with Bosh, both play in high-possession systems last year, and both have issues in various defensive sets.
Many will claim that the Knicks got the rough end of this choice between Bosh and Amar'e. But if the evidence from last year is any indication, the Knicks may have gotten a better deal than the consensus believes.