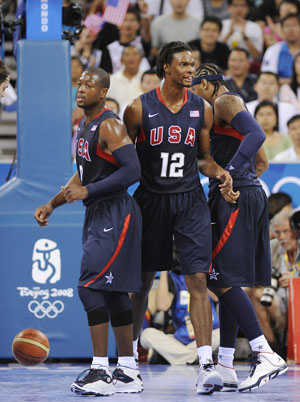 The next significant piece may be falling into place, and it's good news for Miami.
Our own
Ken Berger reported last night
that an executive close to the talks between the Big 3 free agents (
LeBron James
,
Dwyane Wade
, and
Chris Bosh
) has indicated that Chris Bosh will be joining Dwyane Wade in Miami in a sign-and-trade. That's followed by a report from ESPN's Chris Broussard
this morning indicating sources have confirmed
Wade and Bosh announcing their decision to join the
Heat
Wednesday afternoon.
This will send tremors throughout the NBA as without Bosh, LeBron James will likely be rejoining a
Cavaliers
team that has won 60 games the past two seasons but has failed to win a championship and now returns with no significant changes to their roster outside of a new head coach in Byron Scott.
But more importantly, it signals Miami as a rising contender to the Eastern title. Miami will have enough room to sign auxiliary free agents to put support around the superstar duo. But the question will be how much. Miami will need to arrange for a sign-and-trade agreement that sends either
Mario Chalmers
or
Michael Beasley
out if they want to be able to have the flexibility to really improve the roster around this new monster combo to the point of contention. And as Ken Berger tells us this morning, that's not necessarily a done deal.
While the
Raptors
are prepared to move forward with sign-and-trade scenarios sending Bosh to Miami, the duo's agent Henry Thomas had yet to sign off on any finalized trade agreement as of Wednesday morning, two sources involved in the process told CBSSports.com's
Ken Berger
.
So now we wait to see how the rest of the pieces unfold. Will this deal get done, with Miami having one of the most formidable combinations in the league... and not much else? How will they put a contending support core around the two? What will James do, faced now with no significant superstar additions if he doesn't leave Cleveland? What else does Pat Riley have up his sleeve? Where does Chicago turn if they miss out on all three of the top free agents in this class, after working so hard to clear space, despite having the best collection of talent? The big questions are starting to be answered, which means the rest could be coming in a flood over the next few weeks.
-Matt Moore