Posted by Royce Young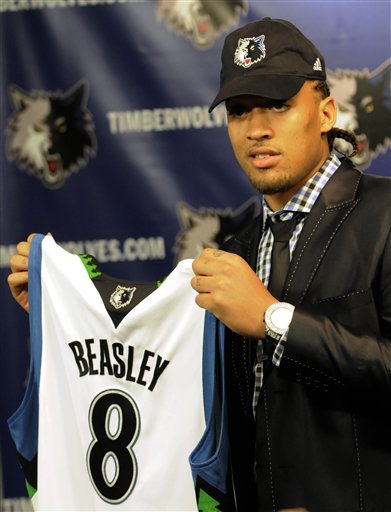 In a
radio interview 1500 ESPN Twin Cities
, Minnesota general manager David Kahn started talking about
Michael Beasley
and how he's put some of his backage behind him. One of those things mentioned was Beasley having smoked a little too much marijuana in South Beach.
"He's a very young and immature kid who smoked too much marijuana and has told me that he's not smoking anymore, and I told him that I would trust him as long as that was the case," Kahn said Thursday during the interview.
Everyone remembers Beasley's famous picture he posted on Twitter that was showcasing a tattoo he had on his back but had a visible bag of marijuana on the table behind him. Or how Beasely got in trouble during the NBA's rookie symposium for smoking in his hotel room. As a result of both those situations, Beasley went to rehab for a brief period. Kahn went on about how Beasely is going to ditch the habit.
"He has developed a really good support system around him this past season in Miami. He's hired people to help him grow up. He is growing up -- he's not grown up. He's 21 ... and he just turned 21 last January, and if you think back, as I do all the time, to when I was 21 and if you had given me this kind of money and put me in this kind of world with these kinds of pressures attached to it and some of the demands, I don't know (that) I would have handled it any easier than, say, he has."
There's no real justified excuse for Beasley's immaturity, but it certainly is a plight we see often with young, rich and famous stars. Too much, too soon can get some folks in trouble.
However, Kahn may have messed up in mentioning it at all. As Tom Ziller of FanHouse so astutely points out , Article XXXIII, Section 3(f) of the league's collective bargaining agreement states that team employees are prohibited from disclosing "information regarding the use, possession, or distribution of a Prohibited Substance by a player," though it's not clear if Beasley's private talks to Kahn falls under these rules. Still, there could be an issue in regards to Kahn's comments.
However, Kahn makes the valid point that Beasley is a wonderfully talented basketball player that just needs to get things straightened out. He can absolutely be productive on the court, but most of that will only happen if he gets things in line off it.