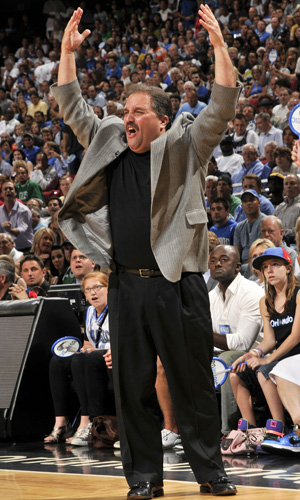 Posted by Matt Moore
The Orlando
Magic
are a force in the NBA. Despite making the Finals in 2009, and the Eastern Conference Finals in 2010, there are still those who dont' fully realize how good this Magic team has been. Much of this is on account of their style of play, which focuses on their three point shooting as part of their "1-in-4-out" strategy. The Magic set a record last season for made three pointers. They believe that this perimeter attack, when combined with
Dwight Howard
's physical play and their elite-level defense is a recipe for a championship.
So much so that they've locked into the approach for three more years.
The
Orlando Sentinel reports
that the Magic have agreed to three-year extensions with both Stan Van Gundy and GM Otis Smith. The extensions are part of a wider range of moves that look to reformulate the structure of the front office with several executives being promoted and/or changing titles. Van Gundy's contract was set to expire at the end of this season. SVG has faced criticism from just about everyone, from Dwight Howard to Shaquille O'Neal to Michael Wilbon for his coaching style, which generally involves a lot of yelling. Teaching, to be sure. But a lot of yelling. And then screaming, and then more yelling. But despite all the criticism, and what I can only assume are a lot of throat lozenges, Van Gundy is effective. And that's what matters to Orlando ownership.
Meanwhile,
as Magic blog Orlando Pinstriped Post points out
, the Magic are primed for their best three-point shooting season yet. Of the nine players currently on roster with the Magic who do not play center, 8 of them had a three point shooting percentage above the league average last season. Their top four backcourt players (Nelson, Carter, Redick, Duhon) shot better than 37%. The Magic replaced two of their worst three-point shooters (Jason Williams and
Matt Barnes
) with two solid-to-great three point shooters in
Quentin Richardson
and
Chris Duhon
. The Magic are primed to hit from the perimeter like never before.
And they've got their abrasive general back as well.