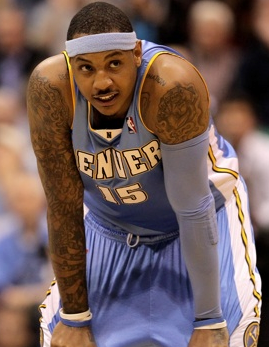 Posted by Royce Young
Earlier,
it was just all signs pointing
to
Carmelo Anthony
leaving. And now, word is he actually, truly, really will leave Denver.
Ken Berger reported over a week ago
that Anthony desperately wants to play in New York. Today, ESPN's Ric Bucher reports that
'Melo is almost a lock to leave Denver.
Bucher says:
League sources say it is now a matter of when, not if, Anthony and the Nuggets will go their separate ways. Anthony is weighing whether to sign a three-year, $65 million extension offered by the Nuggets. His dilemma, league sources say, is what affords him the best chance of continuing his career elsewhere. Anthony could sign with Denver and convince the team to then trade him. His other option would be to not sign the extension, thereby forcing the team to move him rather than risk losing him next summer as a free agent.

During his annual basketball camp in Colorado on Saturday, Anthony said he had no timetable on when he'll decide whether to sign the extension. In either case, "he's going to make it real clear that he's not coming back," said one league source.
Nuggets' blog Denver Stiffs lays out Denver's options with Anthony. And pretty much all of them have the best case scenario being a trade or a sign-and-trade. They see 'Melo as good as gone and are doing the proper thing and laying out scenarios in which Denver can survive losing its star.
A quality point from Andrew Feinstein, who wrote the post on Denver Stiffs:
If you're the Clippers , would you give up Blake Griffin and Eric Gordon (plus the requisite contracts to make the dollars match up) to secure Melo now? Or at least Chris Kaman and Gordon? If you're the Nets , would you ship away Brook Lopez , Devin Harris and throw in a first round pick today? If you're the Lakers , would you part with Andrew Bynum plus anyone not named Kobe or Gasol?

If you're the Knicks ... well, you're screwed in this scenario because you have nothing to offer other than Anthony Randolph and first round picks 20 years from now. Forget Luol Deng or Vince Carter 's expiring contract. The Nuggets can do better. Way better. And I suspect they will.
That's an interesting point. If Anthony wants to play in New York, the reality is the Knicks are a team that doesn't have the assets or pieces necessary to make such a trade. So if 'Melo wants to be in the Big Apple, he'll have to play a lame duck season in Denver and wait for free agency. Or somehow convince Nugget management to take peanuts in exchange for him.
Denver's obviously in a difficult spot. Right now, the Nuggs don't even have a general manager. But there are definitely options. Though they might not include Carmelo Anthony in power blue anymore. If Anthony was completely sold on the Nuggets, he'd have signed the three-year deal by now. He's looking at his "options" and doing "what's best for him and his family." To translate: Peace out Denver, it was fun while it lasted.