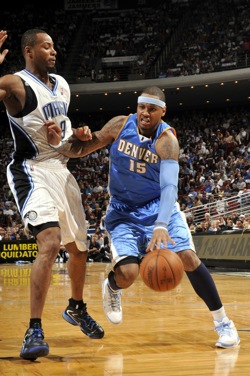 Posted by Royce Young
You're supposed to believe the Orlando
Magic
haven't made any inquiries into
Carmelo Anthony
's availability. At least that's what
general manager Otis Smith is telling you.
But we all know better. A tier one superstar is potentially on the block and Smith's team is in the market for an upgrade at small forward. And
as Ken Berger reports
, the Magic are one of the teams on top of Anthony's list. Yeah, I'm sure Smith hasn't at least
asked
about 'Melo's situation.
But let's operate under the assumption Smith hasn't.
Assuming
he might make an inquiry into Carmelo's availability, what might he offer up the
Nuggets
in exchange?
Matt Moore already laid out a thought-provoking plan
to get Anthony to where he supposedly wants to be in New York. A package including contract relief in
Eddy Curry
's dead body plus quality players like Danillo Gallinari,
Wilson Chandler
or maybe
Anthony Randolph
is definitely a nice option. But the Magic will try and do better. They have to if they want 'Melo.
First, there's the option for the obligatory cap flexibility/relief move. That means
Vince Carter
and his $17.5 million deal which actually matches Anthony's current contract. The teams could straight swap players, but no way Denver goes for that. At least common sense says no way. The Nuggets would need to add a player like
Chris Andersen
to get back
Mickael Pietrus
or
Brandon Bass
, but if that's the case, the deal is just getting worse for Denver.
As far as Carter, his contract expires next season (2011-12 is non-guaranteed) and he's at least a player that will contribute unlike Curry. He's not exactly a small forward replacement and will have to fit in with Aron Afflalo and
J.R. Smith
, but Carter would at least help keep the Nuggets competitive for now.
Why would Denver want Carter? Other than the fact he can still play
some
, because the the Nuggets have a number of players coming up in free agency soon. Both Nene and
Chauncey Billups
are up in two years (though Billups is non-guanteed in 2011-12) and J.R. Smith and
Kenyon Martin
next year meaning the Nuggets would have a large sum of money to toss around next summer all while staying competitive. But overall, this is not a great plan for the Nuggets.
A better, more sensible move for Denver is adding a trio of quality players. Targeting Brandon Bass,
Marcin Gortat
and Mickael Pietrus means the Nuggets get a good small forward in return, plus two solid big men, a position Denver has been looking to improve this year. (Denver would need to throw in
Renaldo Balkman
to make numbers work, but if they're getting back two bigs, it would need to clear out room in the frontcourt anyway.) Yes, it's a step down from Anthony, but any time you trade one of the top seven or eight players in the league, it's going to be hard to get a comparable deal. Actually, scratch that, it's basically impossible. But Denver's other option is to let Anthony walk and get NOTHING in return. You know, the LeBron/Bosh exit plan. And teams that could offer really intriguing deals like the
Clippers
(
Chris Kaman
and
Eric Gordon
?) evidently aren't on Anthony's radar.
Though in the end, if you're Denver's yet-to-be-named GM, what deal do you jump at? New York's hypothetical offer of Curry, Chandler and Gallinari (or Randolph) or Orlando's pretend offer of Gortat, Bass and Pietrus? Honestly, that's a tough call. But one the Nuggets' next front office captain will likely have to make sooner than later.