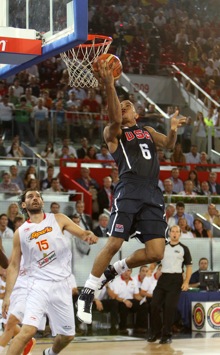 Posted by Royce Young
With about 90 seconds left in Team USA's game against Spain Sunday, I had to stop and remind myself, "Wait, this is an exhibition. It doesn't even count." But it felt like it did. And both teams played as if it did.
In a rematch of the 2008 gold medal game and what might have been a preview of this year's title game in Turkey, Team USA defeated Spain 86-85 in front of a rowdy sold out crowd in Madrid.
The game came down to a final possession as
Kevin Durant
bothered
Ricky Rubio
into an airball then won it for the U.S. with a block on
Rudy Fernandez
as time expired.
Derrick Rose
came up big for Team USA in crunch time on the other end hitting two free throws with 16 seconds remaining to put the U.S. up one.
Early on, it looked like the Americans would cruise to an easy victory. The States jumped out to a 16-3 lead hitting seven of their first 10 shots while Spain was ice cold, starting just 1-10. But the Spaniards were pesky. Despite the sluggish start, Spain stayed close and used a big third quarter run to cut the U.S. to two, eventually tying the score at 80-80 with about three minutes left in the fourth.
The game against Lithuania was an excellent learning experience for the young group of Americans because Team USA had to overcome some adversity and poor offense to eventually pull away from a gritty group. Today's game against Spain is an equally important test but in a different way. Team USA was pushed and had to figure out what it would do in difficult times. Where does the ball go in crunch time? Who's handling the ball in a close game? Who's defending their playmakers? All these questions finally got a first answer put to them.
Durant finally found his offense, scoring 25 points in his usual effortless manner. He was 9-16 from the floor and in key moments late, the offense centered around him. After Spain took its first lead of the game 82-80 with about two minutes remaining, the U.S. immediately went to Durant who hit a tough baseline runner to knot the score again. It may have been only an exhibition, but these were some defining moments for Team USA, as this young group begins to find some identity and understand roles.
Another potentially interesting thing to mention was Coach K's rotations at the end of the game.
Lamar Odom
saw time at center over
Tyson Chandler
who didn't play well. Also,
Russell Westbrook
subbed in on defense for
Chauncey Billups
meaning that Westbrook likely will make the final 12-man if anything for at least a defensive stopper.
Both
Danny Granger
and
Rajon Rondo
sat today, but the feeling there is that it was for no other reason than to get some rest and give some extended looks to guys competing for that final spot.
Kevin Love
also didn't play because of a hard fall Saturday against Lithuania, but is fine and will be ready for the next game.
Obviously, with this being a friendly, it's safe to assume both teams held a little something back. Both squads surely expect to each one another again at some point in the tournament and didn't want to show too many cards. But at the same time, both groups wanted to win. Spain's guards were tough for the U.S. to handle and
Marc Gasol
chewed up Team USA on the inside. On the flip side, the Team USA's athleticism was too much for Spain to keep up with and in big moments the U.S. had proven playmakers while Spain didn't have somewhere to go.
If we really learned anything certain to take away from this exhibition it's that if these two teams meet again, it should be a whole heck of a lot of fun.