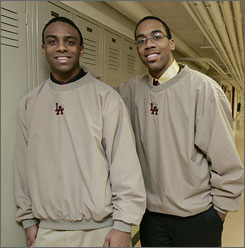 Posted by Royce Young
What happens in Vegas stays in Vegas. Well, unless you tweet about it.
The Orlando Sentinel reports
Michael Jordan's sons, Marcus and Jeffrey who both play basketball at the University of Central Florida, visited Las Vegas during a weekend trip with teammate A.J. Rompza. Jeffrey posted on his Twitter page that the three UCF Knights flew to Vegas with M.J. for a fantasy basketball camp at the Mirage Report Casino that cost between $13,500 and $15,000 per person.
Obviously something seems odd there as the lines between an NBA owner communicating with his sons and friend are cloudy. Very cloudy. But while the Vegas trip in of itself is something to raise an eyebrow at, Marcus Jordan posted on his Twitter that the players' visited Haze Nightclub and Liquid Pool Lounge at Aria Hotel and Casino City Center.
He tweeted:
"Last night was stupid," Marcus, 20, wrote. "... 35k at Haze... Totals 50k something the whole day.. Damn!! Going to the pool again today.. Gotta relax!" Celebrity websites TerezOwens.com and TaintedVegas.com also posted about the Jordan brothers spending $56,000 in Las Vegas in one day.
I don't know a ton about a college athlete's stipend, but I'm guessing it's not in the $56,000 range, nor would they have the money to front for the basketball camp. Again, that's where lines are blurred. Obviously Michael Jordan is allowed to spend money on his children. But is he really since they are college athletes and he's an NBA owner? And of course the elephant in the room, the friend Rompza. Surely Jordan can't front that kind of money for him, can he?
Much like the discussion about Isiah Thomas and whether or not he should be allowed to serve as a consultant to the
Knicks
while coaching at Florida International, the rules are a bit hazy here. The NCAA is definitely strict about these sort of things and likely won't appreciate three college athletes racking up $50,000-plus in Vegas during a weekend trip, but at the same time, why can't Jordan give money to his kids and friends?
But the good news is, everyone is back and ready for school.
Jeff Jordan and Rompza tweeted
that they are back in Orlando and ready for classes that begin at UCF today.
"Starting the semester off good tomorrow," Rompza tweeted Sunday night. "Workouts early cant wait. Its time to put UCF on the map for basketball! I want it." Starting the semester off good indeed, A.J.