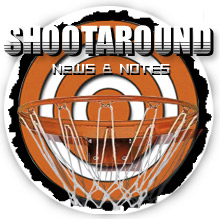 Heisley blows up, Bosh says no to loyalty, and Nate McMillan's on the hot seat in today's Shootaround...Posted by Matt Moore

Grizzlies
owner Michael Heisley
went on the radio yesterday
and had himself quite the little adventure. Among his more interesting answers, besides calling host Chris Vernon "partner," and "son" several times, Heisley admitted that he has not read the CBA, and was therefore previously unaware of the clause that allows for negotiating with rookies on incentive-based bonuses. This is toally okay for an owner who simply signs the check and directs the front-office, but not so much one who makes the majority of basketball decisions. Having listened to the whole interview, I can tell you it was, in fact, an abject trainwreck.
SI's been close with
Chris Bosh
, and
did another interview with him
this week. The soundbyte you'll want to take note of is that he thinks loyalty has no place in free agency. Which was, you know, kind of apparent to begin with.
Nets
Are Scorching looks at how
Derrick Favors
could make the difference
in the Nets breaching the playoffs. This is akin to looking at how your place kicker can help win you a Super Bowl.
Is there any player with a wider range of possible results this season outside of
Greg Oden
than
Hakim Warrick
? In Phoenix, in a system that produces great players beyond their talent alongside Nash, with a host of magical trainers, Warrick could make significant leaps forward. Or, he could be Hakim Warrick. At least
he's excited and ready to work
.
Blazers edge says this
is a "make or break year"
for Nate McMillan.
Beyond the Beat takes a look at players' reactions to the
famous masks they've had to wear
for facial injuries. That's nto a metaphor. We're talking actual masks.
Bucksketball is
worried about chemistry
with the
Bucks
. They have the talent, but the personalities is the concern.
Is
Will Bynum
going to wind up starting
? Really?