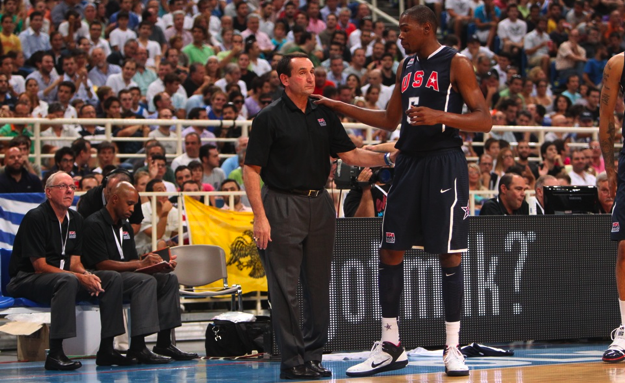 Posted by Royce Young
The 2010 FIBA World Championships tip off tomorrow and let's be honest, outside of Team USA and a handful of NBA players scattered around other teams, we all don't know a ton about it. So here's your cheat sheet to catch up on the important parts of the games:
10 NON-NBA PLAYERS TO WATCH
Miroslav Raduljica, Serbia
- The big Serbian was going to play a large role in this year's games before
Nenad Krstic
was suspended for three contests. Now, Serbia's early success may very well hinge on Raduljica. He runs the floor well, has soft hands and is one of the most improved players in Europe. He's eligible to enter the NBA draft next year and with a big showing in Turkey, might see his stock skyrocket.
Tibor Pleiss, Germany
- Pleiss is property of the Oklahoma City
Thunder
and was taken in the early second round of this year's draft. He's 7'1, skilled with a lovely jumper that stretches out near the 3 and has an improving post game. He's already a quality rebounder and shot blocker, though as is the case with most young European big men, he needs strength. He's definitely an NBA caliber player at some point and he's one of Germany's top players. If Germany makes some noise in Turkey, it'll likely be because Pleiss did some breaking out.
Juan Carlos Navarro, Spain
- Ah, the elusive JCN, or La Bomba as he's endearingly called in Spain. He's known in the States because of a brief stint with the Memphis
Grizzlies
in 2007-08, but is known across international basketball as one of the most crafty, creative and skilled guards in the world. The lack of superior athleticism is what held him back in the NBA, but he has an array of runners, floaters and running jumpshots, plus is deadly when he's open. He's one of those players that's basically just fun to watch.
Ioannis Bourousis, Greece
- Bourousis is coming back from a hand injury that forced him to miss most of Greece's exhibition games, but should be ready to go in Turkey. He's a massive seven-footer that weighs in at 280 pounds. Like
Tim Duncan
, he trained to be a professional swimmer before getting to big for the pool. He's surprisingly smooth on the post and at 26, has improved his game a lot since 2006 when the U.S. played Greece.
Victor Claver, Spain
- Property of the Portland
Trail Blazers
, Claver is a classic swingman that prefers to run the floor and shoot jumpers. He's not strong and not a great ballhandler, but does finish well at the rim. He's huge at 6'10, but only weighs about 215 pounds. Teams with physical forwards will beat him up, but running the floor with Ricky Rubio will give him a chance to showcase his talents in the open court.
Matthew Nielsen, Australia
- The Euro Cup Final Four MVP for Valencia last season, Nielsen is an accomplished international player. He's 32 and has spent time on multiple national teams for Australia. He's not overly skilled, but he's big at 6'10 and moves well. He scores outworking players inside, but is a quality post-up threat.
Tiago Splitter, Brazil
- He counts here because he's not in the NBA
yet.
A recent signee of the
Spurs
, Splitter will be a player that NBA fanatics will have a close eye on these next few weeks. We've all heard about his skills for the last few years, but most haven't had a chance to see them in action. He's incredibly gifted around the basket and if he plays well, Brazil may make a run to the semi-finals.
Timofey Mozgov, Russia
- Same as Splitter, Mozgov will be in the NBA next year with the New York
Knicks
. He's a true big man at 7'1, but runs the floor well. He's not especially polished offensively, but he uses his big body well. A lot of people have compared him to
Marcin Gortat
or
Andris Biedrins
because he scores a lot by playing physical inside. He'll be a project for the Knicks, but he'll be a feature for the Russians.
Ante Tomic, Croatia
- Tomic is a gifted big man that has drawn comparisons to
Pau Gasol
because of his excellent footwork, soft touch and passing ability. He has range that stretches out close to the international 3, and is a player Croatia will likely center their offense around. He's rail thin though and his lack of strength is what really hurts him when talking about taking his game up a notch.
Ricky Rubio, Spain
- Everyone knows about the flashy passes. Everyone's seen the YouTube mixtapes. Everyone knows he has a ton of talent. But not a lot of people have seen him actually play a full basketball game, outside of 2008's gold medal game. With
Jose Calderon
out, this team is Rubio's. He'll play the bulk of the minutes and run the show. He's a bit turnover prone and his stat line never seems to impress, but it's all about watching him. A game where he scores five points, dishes out four assists and has four steals may not seem like much, but he seriously impacted the game.
THE UNITED STATES GROUP PREVIEW
Most consider Group B to be the toughest in Turkey. Obviously there's Team USA, but Brazil, Slovenia and Croatia are all capable squads that should advance out of this group.
Brazil
NBA players:
Anderson Varejao
,
Leandro Barbosa
, Tiago Splitter, Nene (out with injury)
Prior to Nene's injury, Brazil was becoming a trendy pick to make the semi-finals and possibly the finals. The talent is there and it's not just in NBA players only. Former NBA players Alex Garcia and Marcus Vinicius clearly have skill, but Marcelo Machado is an excellent sharpshooter, Marcelo Huertas is a crafty point guard and Wellington Dos Santos may actually be faster than Barbosa.
Former Gonzaga star J.P. Batista has the ability to anchor the interior with Splitter and Varejao and with a combination of size and speed, Brazil is a team to take notice of. They want to play up-tempo and high pressure defense, and they have the players to do it.
Croatia
NBA players: Roko Ukic
The Croatians are a squad that doesn't have a ton of top tier talent, but is deep and filled with quality players. The aforementioned Ante Tomic is the key. If he plays well and stays consistent throughout, Croatia could be a team that goes deeper than expected.
Iran
NBA players:
Hamed Haddadi
This isn't a bad team. They aren't good, but they aren't that bad. They likely won't advance out of the group stage, but they definitely are a candidate to win a game or two. Teams like the United States will steamroll them, but they could definitely sneak up on Croatia and Slovenia, potentially making a little noise to finish in the top four.
Slovenia
NBA players:
Goran Dragic
, Primoz Brezec
As it is now, Slovenia is good. But if it had its entire roster with players like
Beno Udrih
,
Sasha Vujacic
, Rasho Nesterovic and Erazem Lorbek it could be
really
good. Slovenia should battle Croatia for third in this group, but is definitely good enough to get to second. It all hinges on Goran Dragic. He needs to score and create and if he can continue his good play, Slovenia should be fine.
Tunisia
NBA players: None
This is easily the worst team in the group. Its goal should be to maybe beat Iran and then keep games within 20. There's simply not enough talent on the roster to stay competitive. Honestly, Team USA could let Jim Boeheim and Nate McMillan start and it would still be a cakewalk.
United States
NBA players:
Derrick Rose
,
Eric Gordon
,
Russell Westbrook
,
Kevin Durant
,
Kevin Love
,
Rudy Gay
,
Andre Iguodala
,
Lamar Odom
,
Tyson Chandler
,
Chauncey Billups
,
Danny Granger
,
Stephen Curry
The clear favorite to win Group B and a favorite to win the whole thing. Obviously, Team USA has the most talent in the entire field. But playing together is the key. Coach K has done a fine job of establishing roles for players, but the lack of interior size could hurt the Americans the deeper the tournament goes. A game against Brazil in this group could be the only hangup, but Croatia and Slovenia aren't pushovers.
Despite this group probably be the toughest in the tournament, anything less that a 5-0 start for Team USA would be disappointing.
Predicted finish:
1. United States
2. Brazil
3. Slovenia
4. Croatia
5. Iran
6. Tunisia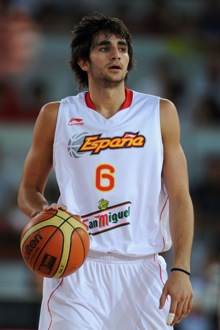 FOUR GROUP STAGE GAMES TO WATCH
Saturday, August 28: Spain vs. France - Two traditional soccer powerhouses field pretty solid basketball teams. Spain should win, but
Nicolas Batum
has emerged as a go-to player for France to seeing him compete and defend the Spanish roster will be fun.
Monday, August 30: Brazil vs. USA - The winner of this game will likely win the group. It should be a fun game to watch too as both teams play pressure defense and prefer to push the pace. This one could easily have 200 combined points.
Monday, August 30: Croatia vs. Slovenia - A European rivalry game with the winner surely locking in a place in the tournament, and probably third place in Group B.
Tuesday, August 31: Greece vs. Turkey - Someone might be killed during this game. No, seriously. Both these teams HATE each other. I don't know if this will so much be a basketball game, as a 40-minute hip-checking contest.
THE FAVORITES
United States
- The most talent in the field, though maybe the least chemistry. The U.S. squad will have to find its identity and find it fast.
Spain
- A chic pick to win gold, Spain has the talent, chemistry and leadership to win. Losing Jose Calderon hurts only the sense that backcourt depth is light. But if Spain is to seriously make this run, a player like
Rudy Fernandez
is going to have to elevate his game and play well.
Greece
- The smallest player on the team is Vassilis Spanoulis, and he's "only" 6'4. So in other words, the Greek's are big. Greece is massive and what they lack in athleticism, they make up for in size and skill.

Argentina
- The USA's old nemesis, Argentina has NBA talent in Carlos Delfino,
Luis Scola
and Fabrico Oberto. They'll surely miss Andres Nocioni and
Manu Ginobili
, but this is a team that should make an easy run to the quarters, probably the semifinals and possibly the finals.
Serbia
- The suspensions to Nenad Krstic and Milos Teodosic definitely hurt, but there is enough on this roster still to get out of the group. And once they're full strength, this is a team that's good enough to be in the semifinals.
Brazil
- The Brazilians seem to be flying a bit under the radar, but with a group of speedy, skilled players, they should get to the quarterfinals with ease and then past that, they're a tough matchup for anyone.
THE SLEEPERS
Turkey
- The host country always seems to do well because the boost from a home crowd always helps. But Turkey has players too. There's
Hedo Turkoglu
,
Ersan Ilyasova
,
Semih Erden
and
Omer Asik
, all NBA players. Some are taking Turkey to get to the finals based only on the fact they're hosting, but they might get there because this roster has some serious talent.
Canada
- Don't sleep on Canada. While not a lot of names on the roster jump out and there's no
Steve Nash
, they have all decent players and a few NBA guys in Joel Anthony and
Andy Rautins
. Canada beat Serbia and France in friendlies and isn't a walkover by any means.
Puerto Rico
- This feisty group has three NBA players in J.J. Barea,
Renaldo Balkman
and
Carlos Arroyo
and has played well in exhibitions. They should get out of their group and in tournament play, they have the players to make a small run.
Australia
- The Australians have slowly been building better basketball teams and this might be one of their best yet. There are two NBA players in
David Andersen
and Patty Mills, plus quality guys like A.J. Ogilvy and Matthew Nielsen. They lack athleticism, but if Mills can get his game going, Australia might sneak up on a few teams.
PREDICTION
(see the full bracket)
Group A winner:
Argentina (Serbia, Germany, Australia advance)
Group B winner:
United States (Brazil, Slovenia, Croatia advance)
Group C winner:
Greece (Turkey, Puerto Rico, Russia advance)
Group D winner:
Spain (Lithuania, France, Canada advance)
Round of 16:
Argentina defeats Croatia, Puerto Rico defeats Lithuania, Greece defeats Canada, Brazil defeats Germany, United States defeat Australia, Turkey defeats France, Spain defeats Russia, Slovenia defeats Serbia
Quarterfinals:
Argentina defeats Puerto Rico, Brazil defeats Greece, United States defeat Turkey, Spain defeats Slovenia
Semifinals:
Argentina defeats Brazil, United States defeat Spain
Third place:
Spain defeats Brazil
Finals: United States defeat Argentina
Some don't like Team USA winning gold. But it's hard not to like them. The way the bracket sets up, if both Spain and the U.S. win their groups, they'll meet in the semifinals. So if the U.S. gets by Spain again, beat whoever comes their way in the gold medal game shouldn't be a huge issue.
The thing with Team USA is, they have more talent than anyone. They have more skill. They have more strength. They have more speed. They have more athleticism. The one thing they lack is size, and that's just in a traditional sense. Nobody can properly match up with the likes of Derrick Rose, Kevin Durant and Rudy Gay. Even figuring out how to guard Team USA's second unit would be tough. While no, this isn't a team full of
Kobe Bryant
,
LeBron James
and
Dwyane Wade
, this is a quality unit with a ton of talent. There will be some tough games for sure and the U.S. will rely on Rose and Durant to carry them through. But these guys should be up to the task to bring home gold for the first time since 1994.