Dwight Howard will be a guest coach at Gatorade's Replay event in Chicago on September 10th, and we'll be bringing you some interviews from their experience. Beforehand, though, CBSSports.com's NFL Facts and Rumors blogger Will Brinson talked to Dwight Howard on the phone about the event, dealing with the Heat hype, and being a movie star in China. Best of all, Will was able to get Howard to do a Stan Van Gundy impression so well, we've embedded the audio below the interview. Enjoy.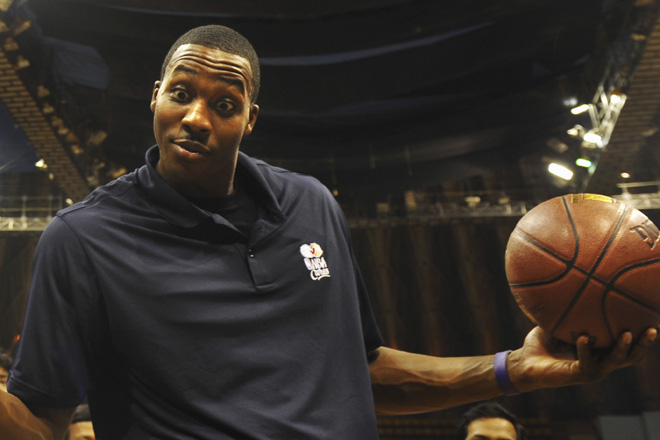 CBS:
You got Replay 3 coming up -- I'm actually a two-time veteran, gonna try and make it up there -- are you excited to see how Gatorade got these guys trained and ready to taste redemption [laughing] … or something like that?
DH:
Aw, man, I'm ready for those guys to get on the court and play the game. They've been training the last five weeks and the Gatorade Sports Science team has really put them on a good diet -- they've been training the right way, eating the right way, doing everything the right way. My guys are ready: they're in shape. We ran them yesterday and they got a little upset because I made them run, but you know.
CBS:
Do you think you have any tactical advantage over the other side -- I mean,
Dwyane Wade
is the other honorary coach so do you think you're the better tactician?
DH:
I think we're gonna win. I think we're gonna win the game, because we have the big fell on our team. He's about 6'5" which is big in high school -- he's about 6'5", 6'6" and he's a big strong guy and he plays overseas now. He's actually
Quentin Richardson
's first cousin.
CBS:
Nice, nice … what about you, if you could pick any game from your illustrious career so far, what game would it be?
DH:
High school. One game against Sebatian Telfair -- we lost the game supposedly by the buzzer, but he hit the shot with like 5 seconds left, and I ran up to the ref and I was calling timeout but the ref was so hyped that he hit the shot that he was jumping up and down and yelling and he didn't call timeout and we lost the game, so yeah, I'd love to play that game again.
CBS:
The
Magic
didn't have any major roster changes over the summer like you guys did last year -- do you think that's a good thing?
DH:
Yeah, I think it's a good thing. The more and more we build as a team the better we'll be. The team that went to the [NBA] Finals, I think that's why we were so effective -- we had great chemistry and everyone knew their roles and what they needed to do and that's just gonna make our team better this year.
CBS:
Are you guys motivated by people constantly discussing a certain other team in Florida who shall remain unnamed because it's so early in the morning?
DH:
[Laughing] We understand that it's gonna be there all year -- they hype surrounding the Miami Heat. You know, the team that they have, they should have a lot of hype. But I've been on teams where we had a lot of great players and we didn't win when it counted -- so it's not about who you have on a team in terms of stars and big names, it's about how that team plays together and what they can accomplish as a team.
CBS:
Stan Van Gundy's one of my favorite … I'd put him in front of a microphone all day if I could. What's your favorite Stan Van Gundy quote?
DH:
Stan Van Gundy quote …
CBS:
Or your favorite line, whatever.
DH:
Well before every practice, he goes "GET THIS IN YOUR MIND" [Ed Note: This impersonation is nearly as amazing as Brinson's cackling is awkward, which is why we've embedded it below.] And he's acting like he's cranking his mind up: "I WANT YOU GUYS TO GET THIS IN YOUR MIND!"
CBS:
[Still laughing] That's a pretty good SVG impersonation, man. Wanna ask about your summer -- you're not doing Team USA, but you've still got a lot going on. You're in this movie -- a Chinese movie called "Amazing" with
Carmelo Anthony
-- how'd that come about?
DH:
Well, I love acting and the NBA asked me to come to China and film a movie and I was there for four or five days. I had a lot of speaking parts in the movie and it was very fun -- I enjoyed it a lot and actually the director wants to write a script so I can come back and do another movie.
CBS:
Almost seems like the "Summer of Dwight" really -- you've got India, Israel and China on the books for travel, right?
DH:
Yup, I've been all over the place -- it's been great. Basketball's opened up a lot of doors for me …
CBS:
What's the coolest thing you saw this summer?
DH: That's a good question. I've been to China like nine times, so just going there is always fun for me. I guess the last time I went they had an expo there and it was all the countries and built this one big brand building to represent their country and it was just an amazing site to see. And there were like 500,000 people there a day so it was just crazy.
CBS:
Have you spent any more time since June working with Hakeem Olaujuwon?
DH:
Well, all I really needed was that one session. We wanted to get back together, but it's very tough -- he stays in Jordan during the summer. But he sent me the tape of my workout and I've been doing some of the things on the tape, but the biggest thing was the footwork, just learning the footwork and the small little things to add to my game.
CBS:
Brandon Marshall and Donovan McNabb recently made some jokes about playing in the NBA -- my buddy Matt Moore and I had a big discussion about this and didn't think either could make the team. If you had to play another sport, what would it be?
DH:
Ummmmm .
CBS:
Golfer? Tennis? Football?
DH:
Tennis is the first thing that came to my mind. I think I'd be pretty good at it -- being a good server, but also slams -- I played tennis growing up. And I played football so I'd probably do one of those things. Or I'd do track
CBS:
Alright, good deal … get you out on this one -- you're known as Superman no matter what
Shaquille O'Neal
says, so if you had to pick one super power to have, what would it be?
DH:
Sort of like the Midas touch but it would be where -- I like changing people's lives, so the ability to change people's lives … sort of like the Midas touch.
CBS:
Wait, so you'd use your powers for good?
DH:
Yeah.

CBS:
Hah, you're a better man than me.