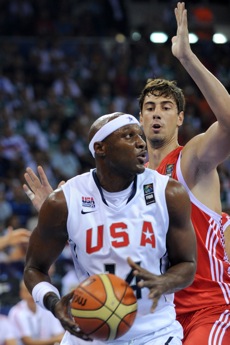 Posted by Royce Young
As soon as the rumblings of a 2004 Puerto Rico flashback started with Croatia leading near the end of the first quarter, Team USA cranked it up. Cranked it up in a pretty big way.
The U.S. ran Croatia out of the building, holding them to only six second quarter points en route to a 106-78 blowout in the opening game for both teams of the World Championships. At the end of the first quarter, the U.S. led just 22-20, but then went on a 84-58 to finish the game.
Kevin Durant
led the U.S. with 14 points,
Eric Gordon
had 13 and
Chauncey Billups
finished with 12. Bojan Bogdanovic of Croatia led all scorers with 17.
Early on, it appeared as if the U.S. might be looking at a tough game against the Croatians. Team USA wasn't playing bad, but Croatia was really utilizing its superior size, hammering the ball down low to talented post player
Ante Tomic
. But the Americans locked down, started forcing turnovers and got out in transition. After that, it was a 46-14 run by the U.S. that really put the game to bed.
Any time you have a blowout like this, there's not a ton to take from it. But this was a potentially dangerous game for this young American squad. Croatia has quality players and was salivating at the chance to make an opening game statement. It was close early, but te U.S. cranked things up and pulled away.
Durant was excellent, hitting 5-11 from the floor, but he played his role as the center of Team USA perfectly. He had six rebounds, but he was best when drawing Croatian defenders only to drop off a couple beautiful passes to cutting teammates. He had three assists and put a lot of pressure on the Croatian defense constantly.
Derrick Rose
quietly has a nice game, running the offense and moving the ball well.
Kevin Love
had 10 boards and seven points, Gordon hit three 3s and
Lamar Odom
was energetic early, contributing six points. Westbrook led Team USA with four assists. One player from Croatia that was especially impressive was
Jazz
property Ante Tomic. The 7'2 center finished with 12 points on 4-6 shooting and added eight rebounds. He clearly had a developed post game and quality footwork, but it's a matter of getting stronger. It's not hard to picture his game translating to the NBA.
What's obvious is that few teams will be able to hang with Team USA in transition. Croatia was constantly reaching in and fouling the Americans to break up the run-outs. While Croatia had a lot of size, those big guys just couldn't keep up. In general, the U.S. transition game is just lovely. One break in particular was especially beautiful. With a little under four minutes left in the second, Durant snagged a long rebound and zipped a pass to a streaking Rose. Rose then immediately fired a bullet to
Russell Westbrook
in stride and in the blink of an eye, the ball was flushed through the net by Westbrook. The whole break literally took three seconds. I timed it. Literally three seconds.
Team USA shot 54 percent from the field, hit 12 3s and only turned the ball over seven times despite running a lot in the open floor. The defense was strong and despite a sluggish start, there's no reason to be discouraged after this one.
Next up for Team USA is Slovenia tomorrow at 9:30 ET. The game can be seen on ESPN2 and ESPN3.com.