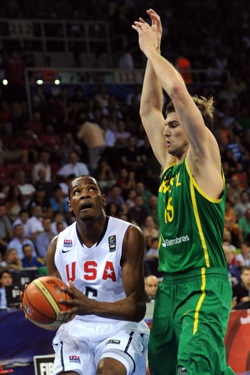 Posted by Royce Young
It took a couple of missed free throws and two missed layups from Brazil inside of five seconds left for Team USA to squeak out a 70-68 victory Monday. The game was close throughout, with Brazil actually leading for a large portion. But
Kevin Durant
's 27 points and 10 rebounds powered the U.S. past
Leandro
Barbosa's
talented and scrappy Brazil squad.
While obviously a win is what is important, there are a few concerns to point out here. Brazil controlled the tempo of the game and nearly pulled off the win playing without two of its best players in
Nene
and Anderson
Varejao
. Plus, we really saw is how vulnerable Team USA can be. While Durant was obviously excellent, there were times in the second half where it was hard to picture where the U.S. would get points from. The crucial possessions became a lot of one-on-one with little ball movement or even really, penetration. It felt like everyone was waiting for a talented teammate to make a play. Team USA scored just nine points in the final frame. The good news is, Brazil only scored nine as well.
It was also interesting how Coach K went with one consistent lineup throughout the entire fourth quarter, and really most of the second half. These guys have played three games in three days since arriving in Turkey and instead of utilizing a really deep bench, the starters stayed in almost the entire 40 minutes.
Lamar Odom
was clearly fried late in the fourth,
Derrick Rose
was huffing and puffing and there just wasn't a ton spirit in their steps late. Coach K used
Tyson Chandler
for a short spell on
Tiago
Splitter in the third which worked well, but never came back to him.
Kevin Love
, who was outstanding yesterday, only played a handful of minutes. There was little
Rudy Gay
, little
Eric Gordon
, no Stephen Curry, little
Russell Westbrook
and no
Danny Granger
.
But thank goodness for Durant. Without him, Team USA truly wouldn't have had any idea where the points would've come from. Chauncey
Billups
had 15, but a few questionable pull-ups from him nearly put the U.S. in a tough spot. Example: With about 20 seconds left and time on the shot clock with the U.S. up two, instead of running the offense throughout Durant,
Billups
handled the ball almost exclusively and hoisted a long 2-pointer. It clanged and gave Brazil a chance to tie or win.
Team USA couldn't get its lightning quick transition game going and therefore, was stuck toiling away in the
halfcourt
.
Billups
interestingly ran point over Rose, and honestly, there was just a lot of dribbling, one pass and then a contested shot. It was the kind of offense that surely Jay
Triano
(the U.S.'s offensive coordinator) had to pull what little hair he has remaining out. Team USA turned the ball over 21 times, with Durant giving it away eight times. I'd call it sloppy, but really it was just bad offense with no fast break opportunities. Brazil only had seven offensive rebounds and tried to limit U.S. run-outs by not crashing the offensive glass and instead getting back. And it clearly worked.
Brazil started out red hot, hitting 12 of its first 16 shots, including five 3s in the first quarter and 7-11 at the half. But the green and gold cooled, finishing around 42 percent and 10-27 from deep.
Barbosa
, who hit his first three 3-pointers, finished with 14 points on 5-18 shooting, including 3-13 from 3. Marcus
Vinicius
who spent a little time with the
Hornets
, had 14 points hitting on 4-5 3s, and
Spurs
signee
Tiago
Splitter showcased some of his ability, scoring 13 points and grabbing nine rebounds. Splitter used both hands extremely well and ran the pick-and-roll beautifully. Save for some foul trouble, Splitter had a very nice game.
If anyone is stunned by the close score or how Team USA looked very beatable, you shouldn't be. This U.S. squad isn't invincible. It's very good and in the right kind of game, darn near unbeatable. But against a smart, tactical unit like Brazil with players like
Vinicius
who can shoot, Splitter who can post and a coach like Ruben
Magnano
(who was the architect of the 2004 Argentina team that took gold) who is one of the best at game-planning for one specific team, Brazil posed a tough test.
But in the end, the U.S. won the game and moved to 3-0. Don't disrespect Brazil by thinking the Team USA nearly choked one away. It was a good game because Brazil has a very good team. There's not a ton of excuse for the lapse in offensive execution, but still, the U.S. improved to 3-0 taking control of Group B and also care of its three toughest group games in three days. Now it should be able to cakewalk to a 5-0 finish by dispatching Tunisia and Iran in the last two.
Team USA has the day off Tuesday and faces Iran Wednesday at 12 ET.