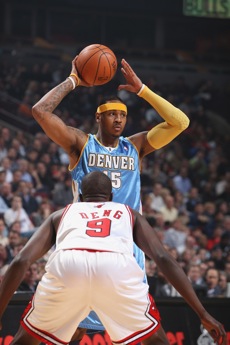 Posted by Royce Young
There's no telling how many times Masai Ujiri's phone has already rang. Some were probably congratulatory calls on his new position with the
Nuggets
, but I'm guessing 95 percent of them have included the words "Carmelo Anthony," "trade" and "we'll offer."
And
according to John Rothstein of the MSG Network,
the
Bulls
have already inquired offering up a package that includes
Taj Gibson
and
Luol Deng
. That doesn't mean that is the offer, but it means that the Bulls are reportedly offering a deal that includes those two players.
Rothstein also reported
that the
Nets
have made a few calls, but any trade discussions with Denver aren't including
Brook Lopez
. Smart move there by the Nets.
Those are just two of the teams reportedly interested in Anthony though. We've heard the
Kings
, the
Warriors
, the
Hornets
, the
Timberwolves
, the
Knicks
, the
Magic
and the
Rockets
all pop up as well along with the Nets and Bulls.
What's interesting about any offer that comes in to the Denver front office is figuring out what the Nuggets are aftet? Is it talent? Is it assets? Is it picks? It's pretyy well agreed upon that Denver won't get equal return on Anthony, but just because you trade a star doesn't mean you can't come out sunny on the other side.
Jeremy Wagner of Roundball Mining Company
put together an interest list of offers from fellow team bloggers. He ranked them and interestingly, both offers from the Nets' bloggers didn't include Lopez and Wagner didn't like the offers.
Devin Harris
,
Terrence Williams
and some picks isn't doing much for a Nuggets fan and it's likely not doing much for Ujiri either.
Ujiri reportedly will meet with Anthony soon and told
Marc J. Spears of Yahoo!
that he wants Anthony to be a Nugget. But Ujiri also said that the door hasn't closed on the possibility of trading. Of course Ujiri would prefer not to trade Carmelo because replacing the face of your franchise is almost impossible to do in a trade, but sometimes your hand is forced. And in this situation, that appears to be the case. The phone calls are going to keep coming for Ujiri, and not very many will involve much congratulations.