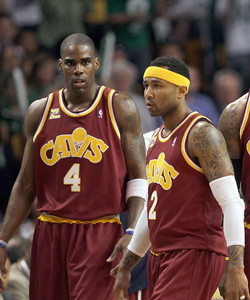 Cavs not making any trades now, but if team struggles before deadline, we may see a firesale.
Posted by Matt Moore
Things fall apart. The center does not hold. And in the Cavs case, the center up and leaves on national television to join his buddies on the beach, sipping pina coladas while they freeze their tales off in a Midwestern winter.
And it turns out the rest of the Cavs are likely to fall apart in the next year or so. The
Cavaliers
haven't thrown the rest of the belongings on the lawn and put out the yard sale sign yet. After all, they still feature a lineup with
Mo Williams
,
Antawn Jamison
,
Anderson Varejao
, and young asset
J.J. Hickson
. But signs are pointing towards the rest of
LeBron James
' former dancing partners being sent to the four corners of the league.
Brian Windhorst of the Cleveland Plain Dealer
reports
via Twitter
that if the Cavs are sub-.500 in February before the trade deadline, Mo Williams, Antawn Jamison,
Anthony Parker
, and
Jamario Moon
will all be on the block. That's three starters and a backup wing. You may be wondering who they would be getting back. Get ready for a whole lot of Erie Bayhawks if that happens, Cavs fans.
Windhorst
goes on to say
that he puts the odds of Jamison being moved before the deadline at 60/40. The question will be who's in the market for an aging forward with $28.4 million left on his contract (prorated, naturally). It would have to be a team similar to where the Cavs were last year, except they've already seen how that worked out. The other option is a team in the middle of a detonation, looking to clear space next year and hoping to acquire a 2012 expiring.
It's possible the Cavs could be competitive. The East is improved, no doubt, but still vulnerable and winning as many games as you're losing with a pretty good coach and a pretty good roster isn't out of range at all. But I wouldn't be snatching up any jerseys of those guys either. They may not be wearing them much longer.