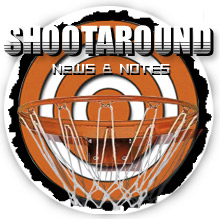 Evans' J, Love's weird way, and the James kiddos' first day, today in the Shootaround.
Posted by Matt Moore
The
Hawks
aren't planning on taking their time
with
Al Horford
's extension. They're planning on offering him a near-max extension before the October 31st deadline, meaning they'll have given up $190 million in salary for two players the year before the CBA dramatically shifts. Horford is an All-Star center, young, versatile, and extremely aware on both sides of the ball.
Kelly Dwyer pointed out
that the Hawks have some options with Horford. Unfortunately, they seem ready to rush into the breach with wallets wide open. You have to wonder how they're going to find salary room for any of the other players, let alone
Jamal Crawford
, who also wants an extension... or a trade.
Tyreke Evans
has reinvested himself
in his jump shot. What's interesting is that he
was a terrible shooter
(32%) from midrange, 16-23 feet last season, but a very decent one from 10-15 feet (43.2%). As Sam Amick's profile reveals, Evans used to be a tremendous shooter, he just needs to reacquaint himself with his shot. It could be a significant leap forward in his offensive development. Which is terrifying, considering how good he was last year.
A Wolf Among Wolves discusses
Kevin Love
's Team USA summer, and the fact that he's best suited for a third option role. Which makes sense, since the Wolves have buried him in the past for
Darko Milicic
and just traded for
Michael Beasley
who most scouts agree is best suited for the power forward role. You know. Third best option.
It's kind of a shame that Shaq's teams didn't end up meeting the
Spurs
over the years. Because the
Duncan-Shaq rivalry
is prett good.
George Karl
was surprised at the firing
of Mark Warkentien. He speaks highly of Warkentien, as well as Masai Ujiri. You have to wonder just how spread to the four corners the entire
Nuggets
organization is at this point.
LeBron James
is a human
. No one really seems to think so at this point, but it's true.
Ersan Ilyasova
is tearing up FIBA play
. Which could be a good thing for the
Bucks
as he develops and takes on more of a leadership role. Or it could cause him to wonder why he's been shoved to the back of the line in the Bucks' forward feeding trough with the additions of
Drew Gooden
,
Larry Sanders
, and others.
A
fascinating look at roster balance on the wings
for the
Knicks
, not in terms of skillset, but shot performance on the right versus the left side of the floor. Interesting note: Ramond Felton took exactly as many shots from the right side as the left, and hit the same percentage.
The
numerous
discussions
of
Marquis Daniels
have overlooked one aspect: Doc Rivers completely took him out of the rotation in the playoffs, despite him having recovered from injury. The trust is simply not there on a team that depends on it so much.
The Bucks
hope and expect
Andrew Bogut
to be back for the season opener. It's close, but don't hold your breath.