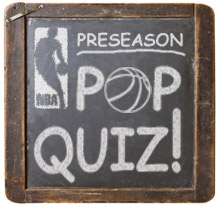 Posted by Matt Moore
Fall is here, hear the yell, back to school, ring the bell ... The NBA season is right around the corner, and NBA training camp starts in just a few short weeks. To get you ready for the NBA season, we've put together 25 pop quizzes. Pencils ready? We continue our Pop Quizzes with this question..
Will the Knicks make the playoffs?
The Knicks are brand new. Fresh out the oven, piping hot, clean waxed, new car smell, brand spankin' new. And that's certainly a good thing as all but the last remnants of the epic failboat that was built there over the last decade have been cleansed and a new team stand in its place, faster, younger, and better built to contend. The Knicks have a bonafide star in
Amar'e Stoudemire
, a solid point guard in
Raymond Felton
, a tantalizing wing in
Danilo Gallinari
, a workhorse in
Ronny Turiaf
, a floor-spreader in
Kelenna Azubuike
, and whatever you would call
Anthony Randolph
.
The questions are, first, is this team good enough to make the playoffs, and two, is there room in the playoffs for them? Let's work backwards.
If we're looking at potential playoff teams, the traditional approach is to take last year's crew, throw out anyone that isn't going to make the cut, then add the new entrants based on likelihood. Well, I think we can go ahead and toss the Cavs out of the "definite" category and into the "maybe" pack down there with the Knicks.
Celtics
are a lock,
Magic
are a lock, the
Hawks
are a near-lock with only a chemistry-based nuclear meltdown as the variable in question. The
Bulls
are a lock with their additions in place. It's hard to say that the
Bucks
will take a step back, we'll put them in "near-lock" with the Hawks. The
Bobcats
haven't lost anyone beside Felton outside of
Tyson Chandler
, who rarely played for them anyway due to injury. Felton's loss is significant, but counting out Larry Brown before the season gets started is something that's gone on a lot the last few years and worked out badly each time. And you know, I think Miami just might be a lock too, you know, if things go well and all.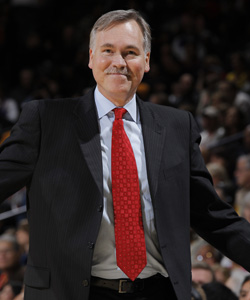 So that leaves only one open playoff spot with a bunch of middle teams vying for the chance to be swept off the planet. Still, making the playoffs is a big deal. And there's an opportunity in play.
The second question is if the Knicks will be good enough. From that standpoint, there are positive, but liquid, signs. The Knicks won 29 games last season, leaving them 11 out of the playoffs. Think about that. A team with
Chris Duhon
,
Al Harrington
, and
Wilson Chandler
as the big contributors won 29 games. You can put almost any lineup on the floor in the NBA regular season and win close to 20 games. That's what made the
Nets
so remarkable.
Amar'e Stoudemire should make a huge difference. Surrounding a single star player with even semi-competent role players is usually enough for 20-25 wins. Don't believe me? The
Clippers
made the playoffs with
Elton Brand
, flanked by Sam Cassell and Cuttino Mobley. Or, just take a look at the Miami
Heat
over the past two seasons. From there, you're looking at 17-22 wins the rest of the new Knicks are going to have to generate.
This team is much better developed to run Mike D'Antoni's system, with Azubuike and Gallinari spreading the floor from the perimeter, Randolph running the floor and filling gaps, Felton running the pick and roll, and Amar'e finishing with a flourish. Throw in Chandler, who in a backup role is much more appealing, Ronny Turiaf as a capable rebounding center, and
Toney Douglas
as a combo guard with athleticism. That's a solid D'Antoni built team. The floor for this team is likely still a six game improvement over last season, but its ceiling is probably high enough to make the seventh seed.
There are still questions galore about this team. Can they defend, at all? Can they rebound? Will they stay healthy enough? Can Amar'e really thrive without
Steve Nash
? Is Felton enough of an upgrade at point to have the system function? What role will
Eddy Curry
play? Okay, I'm kidding on that last one. No one asks that. But there are doubts as to whether the Knicks will be anything more than the best lottery team next season. But taking a look over the East, it's hard to say they won't be right there for the playoffs if things go according to plan.