Fall is here, hear the yell, back to school, ring the bell
... The NBA season is right around the corner, and NBA training camp starts in just a few short weeks. To get you ready for the NBA season, we've put together 25 pop quizzes. Pencils ready? We continue our
Pop Quizzes
with this question...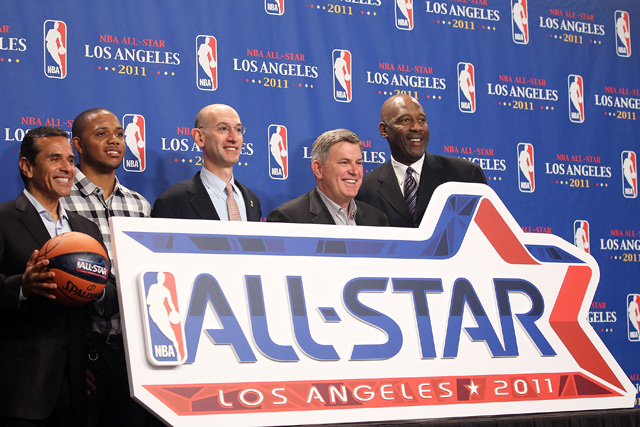 What will the All-Star Game look like?
Los Angeles. City of Angels. Home of the back-to-back NBA champions, the legendary LA
Lakers
. And in February, home of the 2011 NBA All-Star Game. It's going to be ridiculous, it's going to be over-the-top (more so than even your normal All-Star Game). It's going to be expensive. Really, really expensive. It will also be interesting as next year there are likely to be big changes in the All-Star Game. So what exactly is that game going to look like?
It's difficult to predict, obviously, who will be participating in the game. Even more so than any other episode of predicting the future, there are so many factors that can play into who makes it. Not only things like injuries, team downturns, unexpected rises, and trades, but the popularity contest of the voting system. But there are some things we can examine the possibility of.
For starters, with
Amar'e Stoudemire
headed to New York, there's a spot down low for the West. You can slide in
Tim Duncan
, because he's like Johnny Cash. Steady like a freight train, sharp like a razor.
Pau Gasol
's another lock, as many think he's the best power forward in the league right no
w. From there, you've got
Zach Randolph
and
Chris Kaman
as the other two bigs from last year's squad. Kaman's unlikely to return with the addition of
Blake Griffin
, and Randolph's success is tied to an inconsistent
Grizzlies
team. Meanwhile,
Yao Ming
returns from injury and will most likely look like a legitimate contender for the starting spot.
But what about
Andrew Bynum
? We've been waiting for Bynum to live up to his potential for three seasons, and he's constantly referred to as one of the best centers in the league, despite his numerous injury issues. With the Lakers getting older, and Bynum supposedly healthier than he has been in years, Bynum has to be considered a strong contender not just for the backup position, but possibly as a starting center (which would put Tim Duncan at power forward, where he belongs).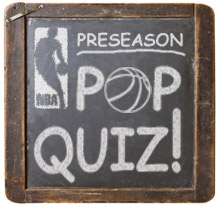 Speaking of Duncan, he and
Dirk Nowitzki
are headed down the stretch and it'll be important to note that one of them is going to take a step backwards. Age demands it. And though Duncan is widely considered the best power forward of all time by those that consider him a power forward, he's most likely to have the dropoff. You saw it at times last season. The writing isn't on the wall, but there's a pen by the chalkboard. Bear in mind we're talking about inches below the greatness he's always provided, but it might be enough with a rising Bynum to shove either him or Dirk out of the starting lineup. And that will just be weird.
This is all before we start trying to figure out the point guards in the West.
Steve Nash
showing no signs of slowing down.
Chris Paul
back to full health.
Deron Williams
healthy with
Al Jefferson
beside him and more of the offensive load.
Tyreke Evans
, out of the rookie well and into the general pool.
Russell Westbrook
, possibly coming on as one of the better slide and dice guards in the league on a team that looks poised to make a run. Stephoe Curry, a rookie of the year runner-up with another season under him and a license to score. This likely means
Jason Kidd
will not be returning to the team for the 11th time in his career.
And oh, yeah, Kobe will be back in the starting spot. No "probably." He will be.
In the East? Well, the Miami Triad was formed from guys in the East, so they're likely to stay. Even with a downturn in production from sharing the ball, all three should be locks, though it's hard to see Bosh making the starting spot as he was a reserve last season. Amar'e Stoudemire could wind up knocking
Kevin Garnett
out of the starting spot which would be another changing of the guard. But a more likely scenario is
Joe Johnson
being unable to reach the starting spot again and moving into the reserve spot as the East looks like the West from last year: four bigs and a guard (
Dwyane Wade
). Which will be disappointing considering
Derrick Rose
and
Rajon Rondo
's existence, both of whom are probable to return as starters.
Carlos Boozer
, freed from the big-heavy West, may be able to work his way into a spot, and
Paul Pierce
may be on the bubble. If
Andrew Bogut
returns healthy, he could complicate matters, along with
Brandon Jennings
. Basically, point guards are going to massively complicate these rosters.
Sure, some of these players are going to go down to injury, others will have downturn seasons. But there's a strong indication that this might be a year of big changes in the All-Star Game, both with starting rosters and the reserve spots.
But the parties will be awesome regardless.