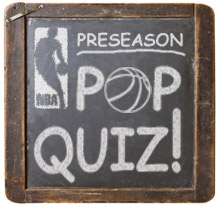 Posted by Matt Moore

Fall is here, hear the yell, back to school, ring the bell
... The NBA season is right around the corner, and NBA training camp starts in just a few short weeks. To get you ready for the NBA season, we've put together 25 pop quizzes. Pencils ready? We continue our
Pop Quizzes
with this question...
Which coach has the hottest seat going into the season?
Scott Brooks.
No kidding, you have to put Scott Brooks on this list. Even though he's been instrumental in taking a team with nothing but young players and turning them into a playoff team that looks every bit ready to challenge for a Western Conference title, Brooks has to be on this list. Why? Because he was so good last year he won the career death sentence: the Coach of the Year award. Let's take a look at the previous winners, shall we?
Mike Brown: canned.
Byron Scott: deleted.
Sam Mitchell: terminated.
Avery Johnson: gonezo.
Yeesh. Watch your back, Scottie.
Okay, besides the superstition, who's actually in danger of losing their gig this year? Here are four candidates.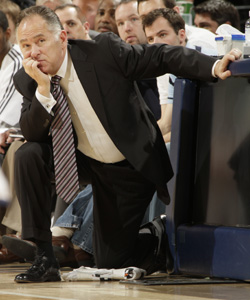 Jay Triano:
It's been stunning how Triano has managed to avoid harsh criticism for his squad's performance which helped lead to
Chris Bosh
's departure without so much as a consideration for staying in Toronto. Brian Colangelo takes all the blame for constructing a spineless defensive team with too many inconsistencies offensively, despite acquiring
Amir Johnson
and
Reggie Evans
and being willing to spend for
Hedo Turkoglu
(who despite all his problems, was a legit quality free agent last summer). Yet Triano's team wound up with the worst defensive marks in the league, falling out of the playoffs down the stretch, and he walked away largely unscathed. Now the
Raptors
are suffering with a significant lack of talent, and often, guys who underperformed with talent end up getting removed when they actually have good reasons for underperforming... much like Triano faces this season.
John Kuester:
The offensive wiz of a team now considered to be one of the greater disappointments of the last decade had a rough opening season. Injuries and subpar play from their big free agents (which most people saw coming outside of the
Pistons
, though not to the degree) played a part, but this is a cold hearted business that very rarely provides reasonable responses to legitimate causes for losing. If Kuester can't get the Pistons turned around with that payroll, his reputation may not spare him from the axe of Joe Dumars.
Flip Saunders:
If anyone in the entire league has an excuse for struggling through two seasons, it's got to be Saunders. Saunders was at the helm for one of the most disastrous seasons in league history last year, and had to preside over the meltdown, grin, and bear it as all his talent was shipped out in a rebuilding plan.
John Wall
was a Godsend, but Saunders has to deal with re-integrating
Gilbert Arenas
, containing the combustible
Andray Blatche
, and trying to move the franchise forward with John Wall. Throw in new majority ownership from Ted Leonsis, and Saunders may have too much stacked against him to survive a poor start, fair or not.
Jim O'Brien:
Larry Bird has committed to O'Brien, has stayed by his side, and recently gave him a vote of confidence. But he's in the last year of his deal, which makes letting him go much easier to swallow. On top of that, the questions about talent are no longer going to valid this year. The
Pacers
now feature a legit center in
Roy Hibbert
, a legit star forward in
Danny Granger
, and a star point guard in
Darren Collison
. If O'Brien can't make this team work in a thin Eastern Conference, with at least some improvement, Bird may run out of patience for him.