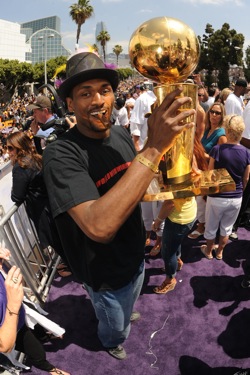 Posted by Royce Young
Most people figured after
Ron Artest
thanked his psychologist after Game 7 of the NBA Finals, that it was some kind of joke. That Artest, who has a history of doing some off-the-wall things, was making light of his past issues.
But Artest takes mental health seriously. So seriously, he's putting his money where his mouth is. Or, in this case, his championship ring where his mouth is.
As mentioned today
in the Shootaround,
Scott Howard-Cooper of NBA.com talked to Artest
about his plans for his 2010 championship ring.
Artest finally won a title in June after 11 regular seasons of trying ... and now he's planning to sell the championship ring as a fundraiser to put more psychologists, psychiatrists and therapists in schools.

"I'm never going to put it on," he said.

Artest plans to soon announce details of what he hopes will become a worldwide auction, and he takes possession of the jewelry in an Oct. 26 pre-game ceremony before the Lakers open against the Rockets . It's an incredible gesture. But it's even more meaningful as a statement.

"You work so hard to get a ring, and now you have a chance to help more people than just yourself, instead of just satisfying yourself," he said. "What's better than that? For me, this is very important."
Obviously, this is quite a setup for some zingers about Artest. But it's clear how serious Artest is about it. And really, mental health is no joking matter. A lot of people suffer from it and not only is Artest going to raise some serious cash, but also a bunch of awareness.
Artest knows he has a reputation. He knows what people think about him. There are the stories about drinking Hennessey at halftime, the brawl in Detroit and on and on. But the reality is, Artest overcame some demons to get in the right state of mind to be able to perform at a high level in the NBA. And he feels strongly enough about this issue that he's willing to try and make a difference. That's definitely honorable. It's also very Ron Artest. Nothing half way, but all the way in.