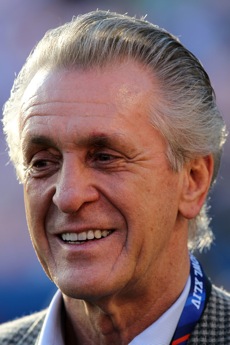 Heat president fires back at critics.
Posted by Matt Moore
Pat Riley's mad as hell and he's not going to take it anymore. Well, okay, he's probably going to take it but he's going to be
really
snarky about it in the press. Riley today spoke with reporters for the first time since pulling off the coup d'etat he managed back in July. In an interview with Ira Winderman of the
Miami Sun-Sentinel
, Riley fired back at all the people who have been taking pot shots in public towards the Miami Triad and Riley's new superpower.
A few tasty cuts from Riley's fatty cow of incredulity:
"Charles Barkley, to me, went way over the top," Riley said. "I think Charles is probably the only guy in the league that can get away with what he gets away with.
"Stan (Van Gundy)'s out there making comments about Chris Bosh being a lap dog to Dwyane Wade," Riley said. "I don't know what happened to some of these guys along the way."
"I take a little bit of umbrage from some of the things that came from people in our game," he said.
There's a lot more in Winderman's piece, but that gives you a sense for how Riley's feeling. There's going to be a lot more of this stuff over the next nine months, so prepare yourself. Until the world becomes accustomed to the new reality the Heat have made for themselves, and process whatever catharsis they need to if the Heat win or if they lose, this is what we'll be dealing with. The anger of the decisions. The reaction to the anger. The reaction to the anger over the reactions to the anger. Ad nauseum. This is the universe that has been made, with everyone taking a side on whether this is being overly criticized or if it really is indicative of a downfall in character.
The character issue is perhaps the most stunning. Sacrifice is most commonly referred to in hushed tones, and with reverence. But for some reason, the Triad doesn't come off as sacrifice at all. Instead it reflects in many people's eyes as weakness, excuse-making, celebrity-chasing. The answer is likely somewhere in between.
Riley had to expect this, though. Especially from Van Gundy. Asking "what happened" to Van Gundy? Pat Riley did. And Barkley taking strong sides is nothing new. But this is just the beginning. Every loss to a major team will be played as a revelation that this team isn't ready to really sacrifice and play together. Every win will be dismissed unless it's in the Finals, and then it will simply be discussed as "They
should
win! They have the talent!"
This is the cost of pulling off something like Riley did. There will be fame, popularity, wins, and money. Lots of money. But there will also continue to be people dead set against the Heat. Riley needs to accept it and let these pot shots keep coming. That motivation is what the Heat need more than anything, the drive to go out and destroy everyone who's dismissed, insulted, or marginalized what they've done and who they are.
"The Decision" is over. The fallout will continue for months, maybe years.