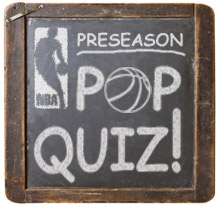 Posted by Royce Young
Fall is here, hear the yell, back to school, ring the bell
... The NBA season is right around the corner, and NBA training camp starts in just a few short weeks. To get you ready for the NBA season, we've put together 25 pop quizzes. Pencils ready? We continue our
Pop Quizzes
with this question...
What player makes a Durant-like leap into a new stratosphere?
Everyone wants to crown the next great NBA player. But going from solid star player on your team, to recognized NBA wide superstar is a different story.
Kevin Durant
won the Rookie of the Year award, then followed that season up with a quality second season. Most folks thought he'd be the next big thing, they just weren't sure when. But his third season was a leap of another kind.
Durant became the
NBA's
youngest scoring champion at 21 years old, took his previous 23-win team to 50, got his group to the playoffs, pushed the eventual champions as hard as anyone and also finished second in the MVP voting. Durant in 2009-10 appeared on national TV only four times (not including the playoffs). Going into this season, he's rapidly becoming one of the faces of the league as he's slated to be on the big stage 26 times.
And after this summer's performance in Turkey, well, some are even elevating Durant to the top of the heap. But that's a whole other story.
We're asking what player could be next. Not the next Durant, but the next player to go from borderline star to the next level. Maybe he's already an All-Star. But is he a
superstar?
Who could be the next guy mentioned along with the top players in the league? Five candidates:



Tyreke

Evans, Kings
- Last season's Rookie of the Year definitely had his moments. He averaged 20.1
ppg
(odd, that's exactly what Durant averaged when he won Rookie of the Year...), shot 46 percent from the floor and dished out nearly six assists a game. Evans blew people away with his ability to get to the rim and with a reportedly improved jumper, he might be
unguardable
.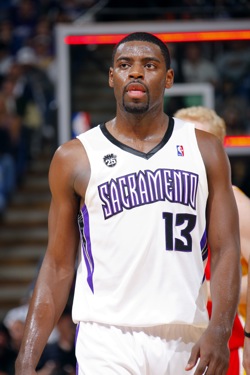 Now his hangup is that he doesn't officially have a position. Most can't figure out if he's a point guard, a shooting guard or something that we don't even know about. No bother though, because Evans is going to get points wherever he plays.
Now can he get to the next level? He absolutely has the ability to. But what really began to take Durant up was how his elevated play improved his team. That will be crucial for Evans. If the Kings are in the basement again this year, it doesn't really matter what Evans is doing. But if he plays well and the Kings win, he could certainly be an All-Star.
Derrick Rose, Bulls
- The world is waiting. Waiting on Derrick Rose to become what we know he can be. He's the kind of player that reveals glimpses, flashes, small tastes of just how ridiculously good he can be.
But he hasn't been able to put it together for a consistent period of time.
Now however, Rose has the best supporting cast he's had yet. He no longer has to be point guard, creator and scorer all wrapped into one. He can relax and pass off to
Carlos Boozer
. He can penetrate and kick to Kyle
Korver
. Or his still can take games over all by himself.
Greatness awaits Derrick Rose. It's just a matter of when he breaks out. And I'm guessing this year.

Russell Westbrook, Thunder
- Before you dismiss, consider Westbrook's stats: 16.1
ppg
, 8.0
apg
and 4.9
rpg
. Only one other player in the league averaged at least 16-8-5. His name?
LeBron
James.
Westbrook had a case to make the All-Star team last season with
Chris Paul
out and
Deron
Williams pulling out at the last minute.
Jason Kidd
got the hometown bid, but Westbrook was right there. His game has steadily improved since he came into the league two seasons ago without a position. He has a
jumpshot
that's improved, he handles the game like a legit point man and he's probably the fastest end-to-end player in the league.
No matter what, Westbrook will be overshadowed by Durant, but with Durant's high profile, his teammates' rise as well. Durant's not the only guy getting all those appearances on national TV. Westbrook impressed people that hadn't seen him much in Turkey with his athletic ability and his lack of fear. The more people see him, the more blown away they'll be.
Rudy Gay, Grizzlies
- Sometimes big money can make a guy complacent. Sometimes though, it can motivate him to prove people wrong.
A lot of fans, media and heck, even Rudy Gay himself, were shocked with his massive contract extension. And Gay has had to hear how he wasn't worthy of the big payday. Either he can be satisfied and just cash his checks and put up 19 and 8, or he can use it as a little extra to push him and his Memphis squad to a different level.
The Grizzlies weren't far off last season. Behind Gay's improved play, Memphis made a small playoff push for a time. The talent is there for Rudy. Actually, he's got more than enough talent. His issue is that on some nights, he disappears. He goes from dropping 25 on Tuesday to 10 on Wednesday. When he starts to put it all together, he has the makings of a star. It's easy to forget that he's just 24.
Danny Granger, Pacers
- Over the past two seasons, Granger has averaged 25.8
ppg
and 24.1
ppg
. He shot over 44 percent from the field and over 36 percent from 3. He also averaged over five rebounds just as an extra.
Yet in the world of small forward talk, Granger gets left out. He's one of the top scorers in the league, yet most forget about him. That to me, is the definition of a breakout player waiting to happen.
Much like these other guys, Granger has been playing for a team that's not winning. Tough to be a recognized star when your team stinks. The Pacers might not be good this year, but they certainly should be better. And if Granger is the man leading that charge, maybe he starts to get a bit more recognition. The points are there. He scores at basically the same clip
Carmelo Anthony
has during his career. Now it's just about people seeing it.