Posted by Royce Young
When one regime turns over to another whether it be in sports, politics or something in between, often times during that introductory speech, the new figurehead preaches transparency. It's a fun word to toss around and it definitely makes you sound like you mean business.
When you're being transparent, you're being honest. You're being forthright. You're being clear in your message. There's no spin. There's no lying. And most importantly, there's no withholding pertinent information.
But can anyone
really
be transparent?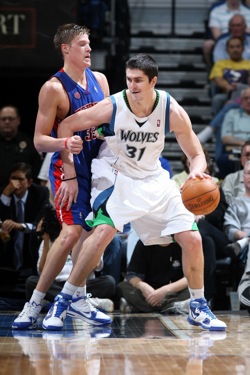 The Minnesota
Timberwolves
are proclaiming that's their mission. They made that pledge to fans in a
full-page ad in the Minneapolis Star-Tribune Monday,
using words like "transparency" and "brutal honesty." For example:
"We now have more shooting, athleticism and depth at every position, which will make us a better team this season. So will we challenge for the NBA championship this year? Not likely. Ouch. This honesty thing is a bit painful. But the reality is, we still need that one dominant player."
I don't know if that's so much honesty as it is common knowledge. I don't think any Wolves fan out, even the most borderline insane ones, would really believe they have the pieces to contend for a
championship.
Another prime section:
"There's been a lot of talk this off-season. The naysayers certainly have been vocal. And while we can understand a certain amount of skepticism, we know we've turned the corner. And we're anxious to get after that first tipped ball so we can start to prove it. Enough talk. It's time to play. Oh, wait. We forgot to talk about Rubio. Next time. "
You've got to give them credit for at least mentioning Rubio. But what exactly are they going to "prove" this year? I thought they just got done explaining how this is a process and that they might not really be any better.
But what would this ad be without a bit of actual advertising.
"We are confident, however, that this team will be exciting to watch. For the first time in years Wolves fans are going to fell like they're missing out if they aren't in the arena. So in addition to player development we're working hard on fan development, starting with variable pricing and Flex Pack ticket packages that let you pick the games and seats that you want. The bottom line for fans is: We're making it easier than ever for you to be part of our turnaround."
Translation: Please come to our games. Please. W
e're young! We're fast! We're going to run! We may stink, but darn it, we might be exciting!
What the Wolves did is smart. They are trying to beat people to the punch. Basically, in a full-page ad they admitted to their fan base that they are going to stink. Why else do it?
It's a different kind of PR. It's the kind where you try and turn yourself back as the good guy by admitted that you've done wrong. But you're fixing it. You're committed to making things better. And we're going to do it by keeping you informed, by being transparent. It's a major part of what Barack Obama promised when he took office.
We're going to be honest with the people.
The Wolves are trying to regain the faith of their fan base. Most questioned the moves over the last 18 months or so, so this is an effort to build back some trust. Interesting approach if anything else.
But if they were actually being brutally honest as they claim, they wouldn't say things like, "Will we challenge for the NBA championship this year? Not likely." They'd say, "Will we make the playoffs? Not likely. Will we win 30 games? Not likely. Heck, will we win 20? Umm... hopefully. Will we maybe be good in three years? For the sake of our employment, we're saying yes." Now
that's
honesty.