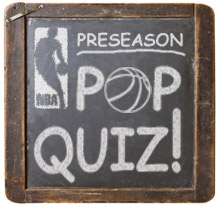 Posted by Royce Young
Fall is here, hear the yell, back to school, ring the bell
... The NBA season is right around the corner, and NBA training camp starts in just a few short weeks. To get you ready for the NBA season, we've put together 25 pop quizzes. Pencils ready? We continue our
Pop Quizzes
with this question...
If the Blazers can get (and stay) healthy, how good can they be?
Pretty darn good. Next question.
(What's that? I need to take 800 or so more words to explain why? OK then.)
Last season's trials for the Blazers are well documented. Greg
Oden
, Joel
Pryzbilla
,
Rudy Fernandez
,
Brandon Roy
,
Nic
Batum
- they all missed a significant amount of time. That's like, the whole team right there.
Yet they still won 50 games and finished seventh in the West. When you start looking at old box scores from last season and some of the lineups Portland played 20, 25 and even 30 minutes a night with, it really shows you what a remarkable job Nate McMillan did last season holding it all together.
Now imagine them all healthy, all clicking for a full 82. I realize that's basically impossible to picture because, you know, Greg
Oden
is on the team, but humor me.
Pryzbilla
may be out until December, but assuming he comes back fully healthy, Portland's front line is as stout as they come.
Oden
,
Pryzbilla
,
LaMarcus
Aldridge and Marcus
Camby
for a four-man rotation on the blocks.
The addition of
Wesley Matthews
is no small thing, especially with the whole Rudy Fernandez situation flapping out in the wind. If anything, Matthews makes Fernandez somewhat dispensable. Brandon Roy now has a capable scorer to stand with him on the wing, plus Matthews is a nice wing defender.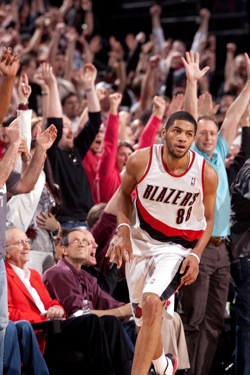 Andre Miller
looked re-energized last season when he had to carry the load for Portland,
Jerryd
Bayless
has his moments and they have a
bonafide
stopper in
Nic
Batum
. Rookies
Luke Babbitt
and Eliot Williams a nice adds, though they may not get a ton of time, unless, well, last season happens again. But this time, Portland's at least got a little more depth and it might not have to scramble to sign
Juwan
Howard's 65-year-old body.
The window in Northwest is still wide open. The
Thunder
might enter the season as the favorites for the division, but they're young and some feel might be setting up for a bit of a disappointment. Hey, it's what happened to Portland last season.
Then of course Denver could be transitioning without
Carmelo Anthony
, Utah has some questions and then there's Minnesota.
Winning over 50 isn't out of the question. Heck, it's probably a strong possibility.
Don't underestimate the value of a healthy
Oden
for a full season. Portland hasn't yet had a chance to experience that. Before he went down last year, the Blazers were 13-8 and were only giving up 90.7 points per game. After
Oden
was hurt, the Blazers gave up 96.2 the remaining 61 games. His defensive impact is definitely important.
Plus, this team is
still
young. The average age is under 25, even with old dogs like Miller and Camby on the roster. For the most part, the Blazers are a rising, building unit. Two years ago, they were the youthful darlings before Oklahoma City stole their thunder (I realize that was terrible), but the reality is, this team isn't filled out yet. Windows in the West don't stay open for long, but it's still open for Portland.
The best part of last season was there wasn't any crying. There wasn't any whining. The excuses were there and this team still won 50 games and made it into the postseason. In terms of character and willpower, that says something. At least to me.
Injuries happen. It's life in professional sports. But not every year do you see five or six significant injuries that cause starters to miss multiple games. That's what Portland went through last season.
If this team is healthy for a full 82, are they legit contenders? Possibly. Outside of one team at the top, the West's door is open. The talent is certainly on the roster and they've proven they can win. Injuries make for an easy excuse a lot of times, but sometimes it's just real.
The Blazers at full tilt for an entire season? Yep, I'd say they're pretty good.