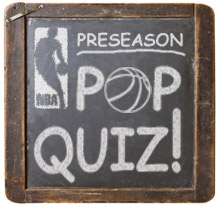 Posted by Royce Young
Fall is here, hear the yell, back to school, ring the bell
... The NBA season is right around the corner, and NBA training camp starts in just a few short weeks. To get you ready for the NBA season, we've put together 25 pop quizzes. Pencils ready? We continue our
Pop Quizzes
with this question...
Is Oklahoma City actually ready to contend for the Western Conference crown?
The expectations started immediately following a rousing standing ovation Oklahoma City fans gave their home team after being eliminated by the Lakers in the first round of the playoffs.

I was in attendance at that game and while Thunder fans were obviously disappointed not to have forced a Game 7 in Los Angeles, once people started filing out of the then-Ford Center, the chatter began.

"Well, this shouldn't happen again next year," one guy near me said.

"Yeah, next year we shouldn't see the Lakers until the Western Conference Finals," another answered.

Then add in the summer Kevin Durant and Russell Westbrook had playing for Team USA and the Thunder has maybe moved away from fan expectations to now having a bit of pressure.

The talent is there. It was no fluke OKC won 50 games last season. And they know because of the earlier-than-expected success, expectation to do bigger and better things are there. It's the nature of the hype machine beast.

But forget expectations. Forget hype. The question is, is this Thunder squad actually good enough to contend in the West? Yes, they're fun to talk about and a trendy pick, but they were the youngest team in the league last season. Actually, here's how young they are: In three years, they'll still have over half the roster under the age of 26. So can this young group that overachieved last season take the next step?

Answer, plainly put: Yes. Absolutely yes.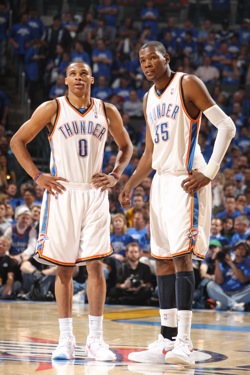 If Durant showed the world anything in Turkey, it's that he's ready. Ready to shoulder the load of having 11 other teammates look to him to bail them out. He's ready to take on the pressure of a tough atmosphere. He's ready to carry a team. He was close to ready last season, winning the scoring title with 30.1 points per game and finishing second in the MVP voting behind LeBron James. But in the playoffs, he didn't play like himself. His percentages were way down, his scoring was down and in the heartbreaking Game 6 loss, Durant went just 5-23 from the floor.

But he hasn't forgot. No way. He talked about how much he learned in that series when he was leading his country to gold in Turkey and he's going to be thinking about that as motivation going in to camp. I almost think people need to be reminded daily that Durant isn't even 22 years old yet. The more he learns, the more hard experience he has, the more dangerous he becomes.

Not to mention the apparent improvement of Russell Westbrook. People don't realize how good Westbrook was for Oklahoma City last season, especially the last half of the year. Against the Lakers, he showcased his versatility and skill. In Turkey, he blew people away with his defensive ability and athleticism. And just like Durant, Westbrook is only 21 and will be entering his third year. He's darn good now, but just wait until he starts to figure things out.

Now OKC has questions. Jeff Green has looked overmatched at power forward. Nenad Krstic may not be a legit starting center. They didn't deal with any significant injuries last season. And of course, they're still young. If you don't want to believe that they can really contend, the reasons are there.

Plus, the West is always tough. The Rockets will be better, New Orleans has Chris Paul back for a full season, the Blazers will be healthy, the Grizzlies and Kings are improving and the old dogs like San Antonio, Dallas and Phoenix can still play. But keep in mind: Oklahoma City didn't win 50 last season in a Western Conference that was down. They won 50 in a year that all eight playoff teams hit at least that mark.

Common sense says the Thunder should be better this year. They improved the roster with an inside presence in Cole Aldrich, shooters in Morris Peterson and Daequan Cook and an extra defensive-minded guard in Royal Ivey. And then of course the natural progression of all the young guys. Don't overlook the potential improvement of a player like James Harden who as a role playing rookie put up quality numbers and percentages. With an extra year, he might be a potential Manu Ginobili type player that can make a huge impact off the bench. And I haven't even mentioned Serge Ibaka yet.

Winning 50 seems like it should be a given with some even tossing around 55 or 60 for OKC. And after that once they get into the playoffs, you never know. They got the hard part out of their system last season with their first playoff experience. This time, they should be ready.

Last season, everybody told the Thunder they couldn't. They were too young, too inexperienced, too raw. They weren't ready. And they used that as motivation to prove everyone wrong. This season, all the expectation is there. They've got talent. They've got their star. They've got a great coach. But most don't think they're actually prepared to play for a trophy. Those questions are there. What happens if someone gets hurt? Aren't they still a year or two away? Aren't they missing one more player?

Just keep telling the Thunder they can't. I think they like it.