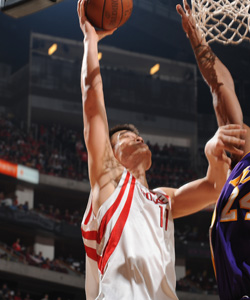 Returning All-Star center will be limited to 24 minutes per game, but how does that affect the rest of the team?
Posted by Matt Moore
As we told you in
The Shootaround
this morning, the
Rockets
have come out and told the world not to be expecting 100% Yao this year. He's going to be ready to go, he's going to go, he's going to be Yao. But
he'll only be doing that for 24 minutes per game
. That's it. And when they say "that's it," they mean "
that's it
." From the
Houston Chronicle
:
"Yao's playing time will not average 24 minutes; it will end there. If he plays 22 minutes in one game, he will not play 26 the next. For that matter, if he plays two minutes one game, he will not play 26 the next. When Yao reaches his 24 minutes, he will be through for that game."
The Rockets assistant trainer explained that the decision wasn't arbitrary. The Rockets, one of the most empirically influenced teams in the league, looked at an unspecified set of data and determined that with the nature of Yao's injury, he simply can't go the full game, not even for only a few nights:
"We have evidence that when he played 35 to 40 minutes he averaged two years ago there was a buildup of stress on his foot that led to it being injured in the playoffs. On some level, we have at least one indication 35 to 40 minutes might be too much. That would lead you to choose to look at having a limit."
It makes sense, right? Yao's injury is physical-stress-related. So let's limit the amount of stress he puts on it a night. Granted, with his frame, there's going to be that problem no matter what he does. Walking's going to put stress on it. Any weight on it, that's stress. But that's a bit different from jumping up and down constantly battling
Andrew Bynum
for rebounds, landing awkwardly repeatedly. He's had a full year off, he's got a plan. The question's not if this is the right move for Yao and the Rockets it is. Mentioned several times in the article is the discussion of how the blowup in Chicago between Vinny Del Negro and Paxson erupted over
Joakim Noah
's minutes. Everyone's on the same page. There's a plan, there are rules, they should work for Yao, and if they don't, there's probably nothing they could do otherwise.
But will that plan work for the Rockets?
We're entering into a particularly tricky area, one that's best labeled "sub-chemistry." There's the overall chemistry of the Rockets, which is good. Most of the guys seem to get along with Yao, and each other. There's a lot of the same pieces from the 2008 22-game winning streak, and that was all about chemistry. The new pieces are all high quality character guys with marginal egos (
Kevin Martin
the only question mark, and it's a widdle bitty one at that). But personal chemistry is different that playing chemistry. That takes time, and patience and most importantly, rhythm. Yao's only on the floor for 24 minutes per game, that's fine. But in that 24 minutes per game, they've got to get Yao involved. Then, they're going to have to shift to how they played without him on the floor. The two aren't necessarily inseparable. But they are different, and the transition might be difficult on a night in and night out basis. Usually players who only play 24 minutes per night are not of Yao's caliber, aren't the kinds of guys you want to get touches, and lots of them. The roles will remain the same, but the flows do change.
This will be a challenge for head coach Rick Adelman to manage, even as it's a blessing to get Yao back on the floor.
Yao Ming
has the potential to help the Rockets back into the playoffs along with a versatile and talented roster. But how that roster evolves in transitioning to and from those crucial 24 minutes per game is going to be a bit like Jenga. One slight miscalculation, and the structure could tumble.