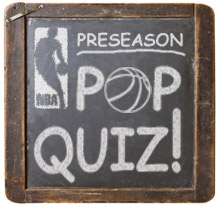 Posted by Matt Moore
Fall is here, hear the yell, back to school, ring the bell
... The NBA season is right around the corner, and NBA training camp starts in just a few short weeks. To get you ready for the NBA season, we've put together 25 pop quizzes. Pencils ready? We continue our
Pop Quizzes
with this question...
As
Courtney Lee
hung in the air, anticipating the incoming lob for a last second shot in the NBA Finals, he likely didn't know anything of what would happen as a result in the next 1.5 seconds. He would miss the alley-oop, a nearly impossible shot that he deserves credit for simply for managing to execute. He would wind up traded to New Jersey which would go on to be one of the worst teams in NBA history, then be traded to Houston. The
Magic
would swap out
Hedo Turkoglu
for an upgrade at shooting guard in
Vince Carter
. And the Magic's best chance at an NBA championship would be snuffed out.
So the question has to be: Does Orlando still have a window open to win an NBA championship?
It sounds absurd. After all, the team won 59 games last season, good for second in the East. They stomped their way to the Eastern Conference Finals for the second season in a row.
Dwight Howard
enters the season at only 24 years old.
Jameer Nelson
has a promising career in front of him. They have depth. Stan Van Gundy is considered one of the better coaches in the league. How could their window be closed?
The concern comes down to a number of tangible concerns, and one that relates to the ephemeral nature of windows in the NBA.
In the tangible, the biggest glaring problem is quite simply the other teams in the league. When Orlando ousted Boston in 2009, it was thought to be a death sentence on Boston's lockhold on the East. But Celtic players and fans who thought the only reason Orlando advanced was
Kevin Garnett
's injury that year were validated last season when the Green stomped the Blue with defense and intensity. Not helping matters on that front is the improved center depth for the
Celtics
, who now feature
Jermaine O'Neal
and
Shaquille O'Neal
to combat Dwight Howard along with
Kendrick Perkins
.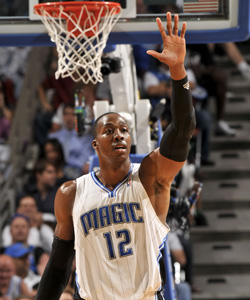 Then of course, there's that nasty Miami issue. With the
Heat
not only taking a giant step forward, but playing in Miami's division, things get considerably harder for the Magic.
But those are outside matters. The real issue for Orlando in trying to make it back to the Finals and compete is that they seem to have detonated the special formula that got them there in the first place. Vince Carter had a handful of terrific great games for the Magic but also brought all the questions about toughness and clutch ability. And he seemed a tremendous step back from what Hedo Turkoglu had given them, regardless of Turkoglu's age and diminishing skill. Chemistry for that team was shaky. It seemed inconsistent and incomplete, like there were tensions bubbling under, in contrast to the 2009 team which seemed to hum like a finely tuned engine.
Finally there's the nature of championship windows themselves for small-market teams. A large market team like the
Lakers
can contend for a decade if they keep egos in check. They can stay in the conversation as long as their top elite player is around and healthy. But we've seen it often in the past. A smaller market team has what is considered a great team, pushes the elite team in their conference, but is unable to reach the summit. The Magic tinkered with what worked, which is often a big no-no in sports. Turkoglu may have been on the downside of his career and not as talented as Vince Carter, but the Magic were better with him running point forward in the halfcourt set.
Think of what they need in order to return to the championship if they don't make a major trade this season. They need Carter to play better than he did last season, have everyone stay healthy, repeat last year's performance, then overcome Boston's defense and Miami's starpower... just to make the Finals where barring a gigantic upset they'll then face the same Lakers team that overwhelmed them two years ago. Orlando's ownership group has commendably committed money to the team as it enters a new arena with a contending team. But unless it takes a major step back up the ladder, it may just be spinning its expensive wheels as the rest of the league continues to stay one step ahead of them.
Orlando will be good. But barring Dwight Howard becoming one of the most dominant offensive players in the league or massive injuries to both Miami and Boston, there's little evidence to believe they'll be good enough to be considered a real title contender.