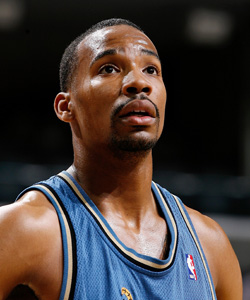 Former Wizards guard suspended in Arenas gun altercation exploring options for NBA training camp, including Charlotte Bobcats.
Posted by Matt Moore
The agent for Javaris Crittenton says the former Wizards guard is exploring several options for NBA training camps to attend, including the Charlotte Bobcats. Crittenton, the 6-5, 200 lb. guard out of Georgia Tech is best known at this point as being the other party in the altercation with
Gilbert Arenas
involving firearms in the Wizards locker room. But before that he was a promising prospect that wound up buried on the
Lakers
' bench, then traded to Memphis in the
Pau Gasol
steal. He found out quickly that the NBA
is a business
.
Crittenton was suspended for the remainder of last year and plead guilty to a misdemeanor gun charge because of the incident. He was given one year's probation. It was Arenas that allegedly starting the argument that lead to the altercation, refusing to pay his share of a gambling debt he and Crittenton incurred in a card game.
Crittenton's agent Mark Bartelstein told CBSSports.com that Crittenton has several options for NBA training camps to attend, specifically mentioning Charlotte as an option. Charlotte would make sense, as they are extremely light in the back court after the departure of
Raymond Felton
in free agency. Larry Brown has a history of working with players coming from bad circumstances with other teams, including Rasheed Wallace,
Stephen Jackson
, and
Tyrus Thomas
. Brown treats the players as professionals, and that approach seems to get through. If Crittenton does attend camp, it could be an opportunity to get his career back on track. Bartelstein says Crittenton is in "great condition" and ready to put the events of last year behind him and focus on this season.
Maybe a second chance for Crittenton is in the cards this time.