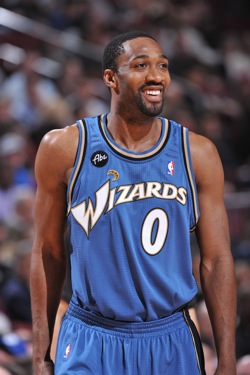 Posted by Royce Young


There will be an eye on Washington this season for one main reason: John Wall. The athletic, gifted point guard will be running the show for a rebuilding Wizards squad and the NBA world will be watching his development. But how does he fit in with Gilbert Arenas? The Wizards' camp will be more interesting than most in terms of sorting out issues. Going in, nothing is really set in stone, other than Wall will definitely get his minutes.

Training camp site:
Fairfax, VA
Training camp starts:
Begins with "Midnight Madness" Sept. 28
Key additions:
John Wall
(draft),
Kirk Hinrich
(trade),
Trevor Booker
(draft),
Yi Jianlian
(trade), Hamady N'Diaye (draft),
Hilton Armstrong
(free agent),
Kevin Seraphin
(draft)
Key subtractions:
Randy Foye
(free agent),
Mike Miller
(free agent),
Shaun Livingston
(free agent)
Likely starting lineup:
John Wall, PG; Gilbert Arenas, SG;
Josh Howard
, SF;
Andray Blatche
, PF;
JaVale McGee
, C
Player to watch:
Gilbert Arenas. I'm going against the grain on this and saying Arenas, but his situation is far more interesting than top pick John Wall's. Arenas has played point guard his entire career and as of right now, the Wizards intend to move him to shooting guard. Gilbert Arenas,
shooting
guard. Write your own jokes here, people.
Chemistry quiz:
By drafting Wall, the Wizards basically told former franchise players Arenas that he's both expendable and no longer the face of the team. How does Arenas, a player looks for his own no matter what position he's playing, handle this? This Wizards definitely have some personality with Andray Blatche, JaVale McGee, Arenas and Josh Howard. How they get along is probably the biggest question of the season for Washington.
Injury watch:
Howard is coming off a major injury that ended his season early last year. He's not part of Washington's long-term plans, but if he's not healthy, this team is thin on both scoring ability and defensive-minded players.
Camp battles:
The starting point guard position is Wall's, no doubt. But steady guard Kirk Hinrich will definitely make a push for legit minutes. Add in
Nick Young
trying to beat out Arenas for the starting 2, Al Thornton trying to win the small forward spot over Josh Howard and Yi Jianlian trying to move ahead of Blatche on the depth chart and you should see a competitive camp for the Wiz.
Biggest strength:
Raw talent. The Wizards have some talented youth. Wall, Jianlian, Blatche, McGee and Thornton and Trevor Booker is a group of young guys that can potentially be serious impact players. But they're raw. They're inexperienced. They haven't tasted winning. And they may not know how to play together. But in terms of basketball ability, Washington certainly has a good amount.
Glaring weakness:
Experience, chemistry and depth. So there was that gun thing last year. Then of course Andray Blatche might say who knows what. And JaVale McGee might do who knows what. To guess that the Wizards might be dysfunctional this season wouldn't be a long shot.