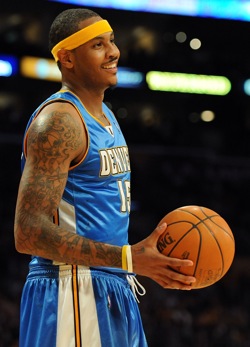 Posted by Royce Young
Are you getting tired of reading about
Carmelo Anthony
? I sure hope not, because I'm not tired of writing about him... yet. But every day there's a little news here, and a little news there. Over the past 24 hours or so, a few more rumors and reports have made their way out. Here's the latest:
According to the Denver Post, Houston is active in discussing a trade for Anthony, and are dangling shooting guard Kevin Martin. Adding in Martin makes Houston a contender because of the Rockets' assets, plus a trade exception they have that could allow them to give up a young asset over someone like Shane Battier.
However, Sam Amick of FanHouse reported that Houston's discussions have not included Martin to this point. Again, the Rockets have assets and a couple young players. But they'll have to throw in a good player, especially with New Jersey reportedly offering up a package that includes everything Denver might want. So if Houston wants to play, Martin will likely have to be involved.
Chad Ford and Marc Stein of ESPN reported that the Knicks head the list for Anthony still. But we already knew that. But the new news is that the Bulls are firmly planted as 1A on his list. Anthony's representation has reportedly ramped up pressure on the Nuggets to get a deal completed prior to training camp.
The Nuggets however are holding out hope that if they can get Anthony into camp, maybe he'll change his tune. That hope is pretty much a pipe dream at this point, but you can't blame them for clinging to their star. Reports say they aren't in any kind of rush and are willing to take time to get every offer they can.
By all indication, Anthony's preferred list is 1) New York; 1A) Chicago 2) New Jersey; 3) Houston. While that's Anthony's list, the rankings for who might actually land him are probably 1) New Jersey; 2) Chicago; 3) Houston and 4) New York.
That's pretty much it for now. Until someone files another report saying Carmelo still wants out, New York is tops on his list or that someone made someone an offer, we sit and wait. Just like Carmelo.