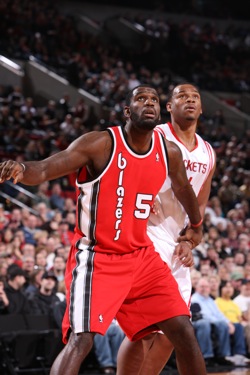 Posted by Royce Young
One day, some day,
Greg Oden
will be fully healthy. He
has
to, right? Because as of now, it doesn't sound like he is.
Via BlazersEdge,
Trail Blazer Director of College Scouting Chad Buchanan
told KGW's Joe Becker on Wednesday that he hopes Greg Oden is able to play "60-65" games during the 2010-2011 NBA season. Bummer sauce.
"People want Greg to be ready at the start of the season... Looking long term, we need everyone healthy, clicking together, come March, April and into May. If we can get Greg to play 60-65 games this year and continue the development curve he was on before he got injured last year, I think we'll have a chance to have some success in the playoffs, this season," Buchanan said.
In other words, he's not ready. And by the sound of it, they don't really know when he will be. The Blazers have already said he's "progressing" but that's just lip service any organization gives after an injury. A player could have his leg amputated and management would say his recovery is going as planned and he's "progressing."
Add this to Rich Cho preaching patience with Oden and Oden himself being non-commital to an opening night return, it's highly unlikely Oden is ready for Portland's first game.
If you forgot, Oden basically broke his knee after falling awkwardly 21 games into last season. He missed the remainder of the year and has spent the summer trying to rehab. But this is coming after microfracture surgery the year before on his other knee. So while the Blazers stick to a plan of patience, Oden's future may have already been decided. Let's hope not.
However, he's still young. He's only 22. And the Blazers are smart to move things along slowly. There's no reason to try and rush him to be ready for October when Portland will actually need him later. So if that means he's out until December, so be it. Yao Ming is being put on a basketbal pitch count, so why can't Oden be on a game count?
Regardless of that though, this is another disappointing turn for not only Oden, but Blazer fans who are eager to have him healthy for a full season. Provided he makes it through this season alive, they'll just have to wait another year.