Posted by Royce Young

Minnesota continues to be an odd place of transition. No one really knows what's going on in the front office and it doesn't really seem like anyone inside the fanbase really cares at this point. While the outside world criticizes David Kahn, Wolves fans remain faithful. They're already said they aren't contenders, but can they at least be decent? Not likely.
Training camp site:
Mankato, MN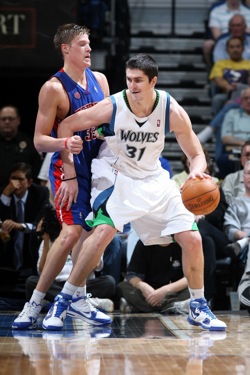 Training camp starts:
Sept. 25
Key additions:
Wesley Johnson
(draft),
Michael Beasley
(trade),
Luke Ridnour
(free agent),
Martell Webster
(trade)
Key subtractions:
Ramon Sessions
(trade),
Al Jefferson
(trade),
Ryan Gomes
(free agent)
Likely starting lineup:
Jonny Flynn
, PG; Wesley Johnson, SG;
Corey Brewer
, SF;
Kevin Love
, PF;
Darko Milicic
, C
Player to watch:
Michael Beasley. Supposedly, Beasley has had a basketball rebirth. David Kahn said Beasley is off smoking pot and has regained focus in Minnesota. Everyone knows Beasley has serious basketball ability. He was one of the most dominant college freshmen ever. But it hasn't translated yet. With a new situation and a new view on basketball, maybe he starts to find his way.
KAAAAAAAAHN?:
KAAAAAAAAAAHHHHHHHHHHHHHN!!!
Camp battles:
Kevin Love has quietly been a little miffed with his role in Minnesota saying he felt more valuable to Team USA than to the Wolves. Right now, it's looking like he'll start. But Michael Beasley could push him for the spot.
Biggest strength:
Transparency and honesty!
Just kidding. But seriously, they've already pretty much admitted they're going to stink, so why should anyone else think different. The one thing the Wolves might do well is run the floor. They brought in Luke Ridnour to lead that charge and there's a good amount of athleticism on the wings in Corey Brewer, Wes Johnson and Beasley to get out in transition.
Glaring weakness:
Scoring. Who puts the ball in the basket for the Wolves? Corey Brewer has shown flashes of being able to score, but on a mediocre team he would be the third or fourth option. And in Minny you're telling me he's the primary? Oh boy.
Jonny Flynn can create and score a little, same goes for Ridnour, Wayne Ellington can shoot, Martell Webster can put it in the basket some and we don't really know about Wesley Johnson. For the most part, it's a cast of average to below average scorers at best, so finding points could be difficult for the Wolves.