Posted by Royce Young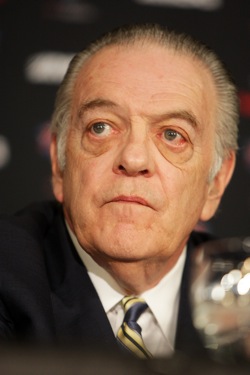 While
Carmelo Anthony
prefers New York to any other destination, it looks like it will be difficult to get him there, at least this season. The
Knicks
are lacking what the
Nuggets
want and as
Alan Hahn of Newsday reports,
the Knicks aren't pursuing Anthony with near as much aggression as they did
LeBron James
.
The Nuggets have said they want three things: cap relief, a young talent and picks. The Knicks are good in two of those areas - cap relief (
Eddy Curry
) and young talent (
Toney Douglas
,
Wilson Chandler
, Anthony Randolph and
Danilo Gallinari
). What they lack is draft picks, because the one they had was sent to Houston in a trade last season for Tracy McGrady.
And that's something general manager Donnie Walsh questions himself over constantly.
"I'll second-guess myself forever on that,"
Walsh told the New York Daily News
in talking about including a 2012 first-round pick in the McGrady trade. "I've always wondered about that. I didn't like it when we did it."


I have to say, Walsh's honesty there is refreshing. Not too often do GMs admit that they may have gotten something wrong. Typically, even if a move was horrible and never came close to working out, there's some kind of justification and explanation that tries to show how it made sense at the time. But Walsh doesn't walk down that path here. He says he thinks he may have blew it.


Because at the time, it kind of did make sense. The McGrady trade helped create the cap space needed for the Knicks to sign Ray Felton and Amar'e Stoudemire this offseason. And without those moves, New York might not looks as appealing to Anthony. But that's a maybe. What we
know
is that Houston owns the pick the Nuggets would want.
But Walsh is trying to atone. He told the NY Daily News that he's trying to acquire a first-round pick that he could potentially use in a deal for Carmelo. But he's going to have to give something up to get it. It's just the circle of life in NBA transactions. A revolving door of moves that can be second-guessed forever.
GMs have to make choices all the time and when they don't work out, there's no one to blame but themselves. Though in a lot of cases, they try and point the finger or at least give an excuse. Walsh made a trade last year that resulted in the Knicks clearing space for a run at LeBron James. They didn't get him, but instead landed
Amar'e Stoudemire
. But that trade could be what costs New York Carmelo Anthony. And it's what's keeping Donnie Walsh awake at night.