Posted by Royce Young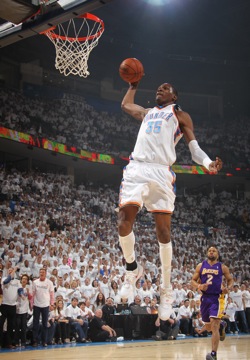 Over the summer, the
Thunder
quickly became an "it" team. Behind
Kevin Durant
's humble contract extension, the team's pushing of the
Lakers
in the first round, Durant and
Russell Westbrook
's performances in Turkey and the additions to the roster, expectations are high. But there are still questions for camp. What about
Jeff Green
? He didn't get an extension this summer. Could that upset the normally stellar chemistry of the Thunder? Or how about
James Harden
? Can he steal the starting job from
Thabo Sefolosha
?
Training camp site:
Edmond, OK
Training camp starts:
Sept. 28
Key additions:
Cole Aldrich
(draft),
Morris Peterson
(trade),
Daequan Cook
(trade)
Key subtractions:
Um,
Etan Thomas
? (free agent), Ron Adams (assistant coach moved to Chicago), Rich Cho (now GM of Blazers)
Likely starting lineup:
Russell Westbrook, PG; Thabo Sefolosha, SG; Kevin Durant, SF; Jeff Green, PF;
Nenad Krstic
, C
Player to watch:
All eyes will surely be on Kevin Durant who has received as much offseason hype as any player. But there are two guys to keep an eye on in Thunder camp:
Serge Ibaka
and James Harden. Those two player will be as key to OKC's success as anyone. Both are immensely talented and both are expected to take big steps forward this season. Training camp is a chance for both to earn extra minutes, and maybe starting spots.
Chemistry quiz:
There probably isn't a team in the league with as much real chemistry as the Thunder. They hang together, play video games together, go see movies together and in general, are all friends. Any time new faces are added to it, there's a small question as to how they'll fit in, but young guys like Cole Aldrich and Daequan Cook shouldn't have any issues.
However, mainstay Jeff Green has a contract extension hanging over his head right now. While Kevin Durant got paid over the summer, buddy Green did not. Thunder management is looking for Green to prove his worth this season and while Green is a great teammate, it could potentially become an issue.
Camp battles:
The Thunder are pretty set in their ways right now, having started the same five in all but six games last season. But James Harden could push Thabo Sefolosha for the starting 2-guard spot. A big camp that showcases improvements on the defensive end could earn Harden the minutes. Also, Scott Brooks prefers to play just nine and right now, the Thunder's rotation appears set. So how does Cole Aldrich earn minutes in that group?
Injury watch:
Nenad Krstic is out after having surgery on a finger. This is a big chance for Aldrich, Serge Ibaka and second-year player
Byron Mullens
to potentially make a case for more playing time.
Biggest strength:
Talent. This Thunder group is full of ability. In every sense of the word too. Athleticism, speed, skill - you name it. Still one of the youngest rosters in the league this group aged and matured a hundred years worth with its baptism by fire against the Lakers in the first round of the playoffs. Some might think they're still inexperienced, but after Russell Westbrook and Durant's maturation in Turkey and over the summer, these guys are ready.
Glaring weakness:
Interior size. The jury is still out on Jeff Green's power forwardness. Aldrich helps, but he's a raw rookie. Ibaka came a long way but he's likely not ready to start. Krstic is a finesse big man that doesn't rebound.
Nick Collison
is a scrapper, but undersized to play big at center. The Thunder rebounds as a team and actually led the league in blocks last year, but against the giants in the West like the Lakers, size could be a problem.