Posted by Royce Young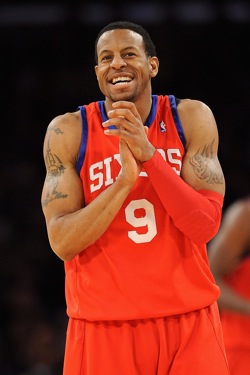 This
76ers
club is a young one that doesn't have any major inclination to win now. They know it's a work in progress and based upon the development of a young core, this group has future potential. But it could be a long year this season. Doug Collins is an excellent coach for young players and almost always gets a win improvement out of a new team in his first year. But he has a challenge ahead of him in Philly this season.
Training camp site:
Philadelphia, PA
Training camp starts:
Sept. 28
Key additions:
Evan Turner
(draft),
Spencer Hawes
(trade),
Andres Nocioni
(trade)
Key subtractions:
Samuel Dalembert
(trade),
Willie Green
(trade),
Rodney Carney
(free agent)
Likely starting lineup:
Jrue Holiday
, PG; Evan Turner, SG;
Andre Iguodala
, SF;
Elton Brand
, PF;
Marreese Speights
, C
Player to watch:
Andre Iguodala. After a strong performance in Turkey where Iguodala was called upon to simply play a role, many are riding high on Iggy heading into this season. But it's about mindset. Playing as a third or even fourth option and primarily as a hard-nosed defender, Iguodala looked like one of the premier perimeter defenders in the league. But when he returns to Philly as the leading man on a mediocre to bad club, how does he respond? Will he stay committed to fitting in or will he try and assume the job of dominating the ball for the Sixers?
Chemistry quiz:
The Sixers took Evan Turner second overall and now are tasked with figuring out how he fits in. In college, Turner handled the ball, created, distributed and scored. But how does he play with the Sixers? Is he going to stay off the ball and straight play the 2? Will he have some ball-handling duties? With the improvement of Jrue Holiday as a point guard, figuring out how Turner fits will be a question.
Plus, Philly is bringing in a brand new coach in Doug Collins. Typically, Collins improves teams, especially young ones. But it'll be an uphill battle figuring out the roles and spots of some of these guys.
Camp battles:
Any question as to who is starting at shooting guard was solved with last week's trade of Willie Green. The 76ers are going young and will start Turner there.
Lou Williams
could potentially push for Holiday's starting point guard spot, though again, it appears the Sixers are going all-in with the youth movement. At center, Marreese Speights will likely start over offseason acquisition Spencer Hawes, but it'll be a competition throughout camp.
Biggest strength:
Athleticism. The Sixers can move with the best of them. Holiday is a physically gifted point man, Turner is a long, lengthy shooting guard, Iguodala is ridiculous and a bench player like
Thaddeus Young
is long and athletic. The 76ers have a bunch of raw talent with a bundle of ability. In one regard, it's their biggest strength, but in another, it's a weakness.
Glaring weakness:
Inexperience and youth. These Sixers don't know how to win. They brought in Elton Brand last summer to try and be a mainstay on the inside and it hasn't worked out well thus far. So right now, the team is left with players trying to fulfill duties likely above them. For example, Iguodala. As showed in Turkey, Iggy is at his best when he's not relied upon to put up 20 points a night. But on this team, he has to be the man. So until someone else steps up whether that's Turner, Young, Holiday or someone else, this team will have issues.