Posted by Royce Young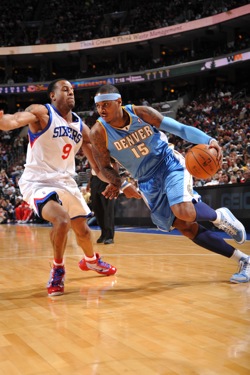 It's Sunday, September 26th. Do you know what the latest on
Carmelo Anthony
is? Here are some cliff notes: the
Nuggets
are talking to some teams and stuff. Well, there's more detail to it than
just
that.
Ken Berger of CBSSports.com reported over a week ago
the
76ers
were involved in the Carmelo trade talks and were even offering
Andre Iguodala
as bait. Late Sunday,
more reports
of the same
started coming out
with multiple outlets reporting that the Sixers and Nuggets have been in talks regarding exchanging the stars. Nothing serious by any means, but at least some discussion.
Berger has filed his latest report
updating the Carmelo situation and here's the gist:
In terms of the Melo to Philly talks, Anthony hasn't softened on wanting to go to Philadephia. So while there may be talk, don't look for that to Heat up. At least right now.
The four-team deal sending Carmelo to New Jersey is still alive, Berger says. And another team could possibly be added to the mix. But it's possibly on life support. The Nets are willing to wait, but the other teams involved - the Jazz and Bobcats - don't want this trade talk to cause a big distraction in their training camp this week. So if things don't start moving, they may balk.
The Nuggets have used this extra time to solicit more offers from other teams, but according to Berger, nothing better has presented itself yet. As of now, it appears the deal with the Nets is the best offer and by the account of a number of other executives, the best one the Nuggets can hope to get.
To copy and paste from Ken: "The Nets are said to have "exhausted" the options available to the Nuggets in the current structure of the trade, with one possibility having Harris going to Denver instead of Charlotte.
What's better for Denver? Devin Harris or Andrei Kirilenko? As Berger mentions, it comes down to which player has more potential trade value. Kirilenko who has a $17.8 million expiring deal is pretty lucrative compared to Harris who is owed $27 million over the next three years. But at the same time, Harris is an All-Star caliber point guard and if he's dealt somewhere that wants him, they've got him for three years. So Denver would be choosing between a large expiring deal or an actual trade asset in Harris. What gets them more?
Denver may be stalling for a whole other reason too. Not just to continue to hear from other teams, but in order to hopefully get Anthony in camp and around familiar, friendly faces. To this point, Anthony still hasn't had a sit-down with new GM Masai Ujiri. The Nuggets are hoping that if they can get Carmelo into media day and training camp tomorrow, that maybe talking with George Karl and Chauncey Billups will ease some of his desires to pack up and leave. But that's likely a longshot.
Maybe that's what the Nuggets have been stalling for. They haven't even been able to hear from Anthony and maybe they at least want their shot at keeping him tomorrow. If Carmelo doesn't show or he doesn't like what he hears, then the wheels may be set in motion, big time. That's all speculation on my part because this thing could go through while I'm typing this involving five teams we haven't even talked about yet. That's just how it is.