Posted by Royce Young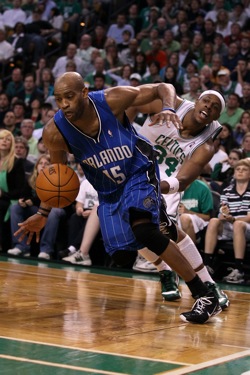 The team holding training camp at a military base a couple hundred miles north will hog the attention in Florida this year, but still, the Orlando
Magic
have a roster built to compete for the Eastern title. The team returns almost entirely intact and welcomes in just a couple of role-playing faces.
Dwight Howard
enters his seventh year as a pro and is looking to push his team over the hump. The Magic's window might be closing with some of their player's aging, but coming in, they look primed to be in the middle of it all in the East.


Training camp site:
Orlando, FL
Training camp starts:
Sept. 28
Key additions:
Quentin Richardson
(free agent),
Chris Duhon
(free agent),
Daniel Orton
(draft)
Key subtractions:
Matt Barnes
(free agent)
Likely starting lineup:
Jameer Nelson
, PG;
Vince Carter
, SG;
Mickael Pietrus
, SF;
Rashard Lewis
, PF; Dwight Howard, C
Player to watch:
The easy answer here is Dwight Howard. Around him, all things function in Orlando. But the guy to keep an eye on is Vince Carter. He had somewhat of a down season last year, but he's coming into this camp kicking off a contract year. So the thinking would be that he'll be more focused, in better shape and as prepared as ever.
J.J. Redick
could potentially push him a bit for his starting spot so Carter has got to be ready to hit the ground running.
Chemistry quiz:
The Magic will be answering one common question during training camp and really during the entire season - What do you think about the
Heat
? Stan Van Gundy isn't someone to mince words, nor is Howard. Not that it'll cause a rift among the actual team, but it's certainly possible - nay,
probable
- that someone says something that catches some attention and headlines. Maybe Orlando wants the focus, maybe they want to provide some bulletin board material. But there's no doubt that some off-court stuff will definitely jump into the picture during camp.
Camp battles:
As mentioned, it's possible that Redick could push Carter. Van Gundy is a coach that likes defense and Redick has come a long way on that end. He can shoot, which is something the Magic like. And now he's playing hard and defending. Carter obviously still is a great athlete that can explode any night, but if there's any sign he's dogging it, Van Gundy may decide to go with the young guy.
Another position to keep an eye on is power forward.
Brandon Bass
has been pretty vocal about wanting more playing time. But still, Ryan Anderson figures to be in front of him on the depth chart. Not only could that be a chemistry issue, but it'll definitely be a camp battle to watch.
Biggest strength:
Everything hinges around Howard. The drive and kick is Orlando's bread and butter and it's there because of the rock anchoring the inside. The Magic don't really have a hole to fill as long as everyone is clicking and working together. The bench is solid, the starting five is quality and there's a star that can handle the spotlight.
Glaring weakness:
One dimensionality. I think I just made that word up, but Orlando can become one dimensional in a hurry. And they can do it in a variety of ways. What I mean is that the issue varies from game to game. Sometimes, they commit far too much to pounding Howard down low to the point of forcing it. Other times, they shoot too many 3s too early in the shot clock. The Magic have an identity: They want to use Howard for attention and let their athletic guards drive and create open outside looks. And then defend on the other end. But sometimes, they sure don't execute it. When they do, they're as good as anyone. When they don't, they equally as beatable.