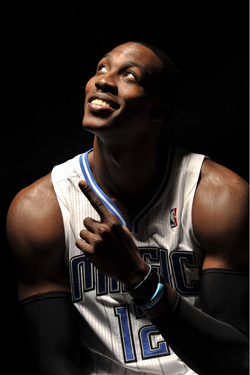 Magic will do whatever it takes to re-sign Howard, but All-Star Center follows the LeBron formula for keeping leverage.
Posted by Matt Moore
This summer is going to have long-lasting effects on the NBA that go well beyond the careers of the players who actually switched teams. It's going to affect how teams treat their expiring stars, increasing the amount of panic they experience and allowing players to extract every ounce of leverage in the negotiations. Sure, the money is going to be the same. The max is the max (barring some massive changes in the CBA this summer). But there are things that have to do with personnel, direction, and perks that players can squeeze out with the threat of "LeBroning" their team.
Such is the problem the Orlando Magic face. The
Orlando Sentinel
reports today that Magic General Manager Otis Smith
said he has every intention of locking up Howard before he hits free agency
, by signing him this summer before his expiring year. In regards to giving Howard the kind of contract he wants?
"Of course we will," said Smith, when asked if he'll approach Howard with a contract of his choosing. "We want Dwight to be in a Magic uniform for as long as he plays basketball."
But Howard, naturally, followed the script for free agents with a contract expiratioin in sight (outside of
Derrick Rose
, who's apparently just a sweetheart). He said he loved Orlando and that he planned on being there forever. But of course, wouldn't say he'll sign. That one little step short, where you keep the fans happy but let the organization know you expect to be treated the way you want to. That goes for everything from coaching to personnel to team policies. These are the kinds of things Howard can control. He's also giving himself an out if the next two years don't go so well.
Imagine that
Vince Carter
falls off the production cliff as age catches up with him and
Rashard Lewis
has another slight downturn. SVG starts to lose the locker room and all of a sudden the Magic have a disappointing season. Howard is going to keep that free agency possibility in his pocket as long as he has to to make sure the Magic continue to put him in a position to contend. Now, sure, the more likely scenario is the Magic have an Eastern Conference Finals run or better in them this season and everything looks up, he may commit. He genuinely loves the team, the city, and the organization. Being that kind of hero probably appeals to his temperament. But he's going to maintain his position, the same position
LeBron James
and
Chris Bosh
held at this point in their career. Always saying the right things without saying the thing that locks you in. This summer was all about players getting what they want how they want, when they want. And it sounds like
Dwight Howard
will be following that formula to a T.