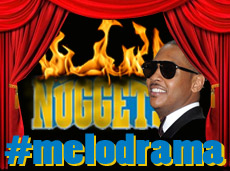 Posted by Royce Young
If you've been following along, you already know this. But the biggest reason the
Knicks
couldn't get into the meat of the
Carmelo Anthony
discussions is because they were lacking all the pieces required. That main piece being a first-round pick in next year's draft.
Donnie Walsh even talked about regretting
the
Tracy McGrady
trade in which he gave up a first-rounder. But the Knicks may be able to get back in the game now as
Chris Sheridan of ESPN.com reports
that New York has a deal available to them in which it can acquire a 2011 first-round pick to use as part of a potential Carmelo trade.
Of course, the key there is getting talks revived and jumping into the driver's seat. The Knicks don't have the
best
trade pieces, but the fact that New York is Melo's preferred destination and that the Knicks could package a deal better than some, it's possible.
If anything, it's obvious that the Knicks are serious about playing in the Carmelo Sweepstakes. They've made a contingent move in order to make a move, which is a lot closer to Melo than they have been before.
Is this deal good enough to trump what the
Nets
put together in the four-team deal that's dormant/dead/in a coma? Who knows, because we don't know the parts. But this definitely means that the Knicks shouldn't be counted out just yet.