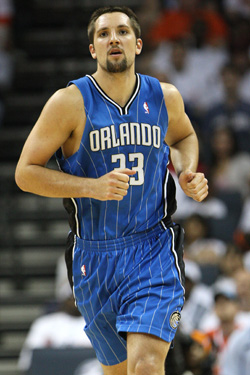 Magic forward locked in for next season, question remains if he'll get time.Posted by Matt Moore
Ryan Anderson
should be getting rotation time on a young team, improving his skills as a rebounding power forward that can also hit from the perimeter. But he wound up on the Magic, who have
Rashard Lewis
and his bajillion dollar contract, so instead he's struggling for life, trying to work his way onto the rotation alongside disgruntled power forward
Brandon Bass
. Then again, he's on a contending team, which any player will tell you is preferable to a lottery squad. Either way, Anderson's not going anywhere any time soon.
The Magic today
exercised their option on Anderson
for the 2011-2012 season. Anderson spent considerable time at power forward last season, earning the backup job in front of Bass with Rashard Lewis out for a suspension. But when the playoffs got going, Stan Van Gundy predictably went to his veterans. Anderson shot 37% from the arc last season, averaging 19 points and 8 rebounds per 36 minutes, a great per-minute rate.
Anderson compares favorably to OKC's
Jeff Green
, as a perimeter power forward. Anderson's rebounding numbers actually are favorable to Green. Anderson still needs help at the defensive end, but even that gap in his game is closing quickly. It's no wonder the Magic are clinging to him. With the Magic talking more about moving Lewis more to the small forward spot, there will be opportunities for Anderson. The question is if they'll mazimize their use of him or if he'll continue to add to the ranks of Magic frontcourt guys who are disgruntled with their lot.
Marcin Gortat
's not happy with not getting touches, and Brandon Bass could not be more stressed out with being buried on the depth chart. Lewis is still the best flex-forward player they have, but Anderson's potential was enough for the Magic to go ahead and lock him up, even as they continue to struggle with the luxury tax.