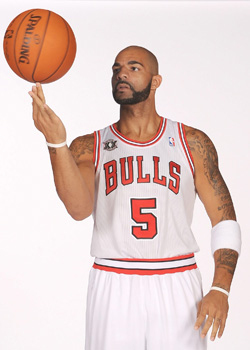 Boozer forward not just out, but out at a bad time. Bulls may start in a hole to begin the season. Posted by Matt Moore
Carlos Boozer
is out eight weeks with a broken hand
, and while missing Boozer for any extended time is bad news for the Bulls, the timing is less ideal than some alternatives, even. Not only will Boozer miss the remainder of training camp while the team tries to integrate its schemes on both sides of the ball, but the schedule ensures that the Bulls will most likely be staring up at their Eastern Conference competitors when Boozer returns.
With an unofficial return date of November 28th, Boozer could miss up to fifteen games in that window if he's out the full eight weeks. Of those fifteen,
nine of those games are against playoff teams from last season
. Among the six non-playoff teams? They've got an improved
Kings
squad, and a much-improved
Knicks
team that may challenge for the playoffs. Detroit, Golden State, Washington, and Houston make up the remainder, and it's not like Houston's looking far behind this year. They've got
four back-to-backs
in that span, but the real problem? The real problem is the circus.
The Bulls are gone for a long stretch each November thanks to the circus occupying the United Center. It's a rough road stretch, and one that pretty much sprung the Bulls like a bad spring wound too tight last season. You're looking at Boozer missing the entire two weeks of that trip. If he were to try and come back six weeks in, he'd be coming in right at the start of that trip, including this murderer's row: at Houston, at San Antonio(back-to-back), at Dallas, at the
Lakers
, at Phoenix (back-to-back). Yikes.
While Boozer's out, the Bulls essentially become last season's team with better shooting guard play.
Taj Gibson
will take the majority of the time at power-forward, which he played admirably at last season. But the offensive gap in the post between him and Boozer is so high, that almost slices the Bulls in half. Then you've got to factor in time for Boozer to get back into rhythm with the offense and for the team to adjust.
The Bulls wanted to contend immediately in the East, with Boozer talking about winning a championship with this team. If they're going to get where they want to be, they're either going to need an absolutely hellacious run by Boozer's backup, or a stunning streak when he gets back. From where we're at on the eve of his injury, the Bulls look like they'll be climbing out of a hole immediately to start what was supposed to be their emerging season.
Them's the breaks, unfortunately. Tom Thibodeau's got his work cut out for him, right off the bat.
Derrick Rose
,
you want to win the MVP
? Now would be a great time to hit that level. Like, now.
Update:
K.C. Johnson of Chicago Breaking Sports reports
that Boozer will need surgery and will defintely not return until after the circus trip.