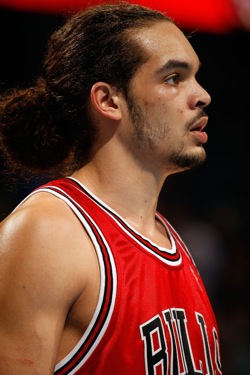 Posted by Royce Young
Well, it doesn't look like
Joakim Noah
is getting traded for
Carmelo Anthony
.
According to multiple outlets, Noah has agreed to a contract extension worth somewhere in the $60 million range over five years. The extension makes Noah only the second player in the class of 2007 to sign an extended deal,
Kevin Durant
being the other player.
Noa probably earned the big payday last season as he averaged 10.7 points and 11.0 rebounds per game in his thirs season. He became known as one of the East's best intertior defenders and his energy and effort is something that's become a calling-card for Noah. And evidently he is something valuable enough that the
Bulls
said no to trading him for Carmelo and also paid him $12 million a year.
The Bulls were on the clock too. If the two sides could not come to an agreement by Nov. 1, Noah could be a restricted free agent after next season and then an unrestricted free agent. And according to Smith, the two sides were stalled in the recent weeks with the Bulls offering $55-57 million over five years while Noah wanted somewhere in the $65 million range. So it looks like there was a nice compromise.
But what does it mean for Chicago? The Bulls made big news this offseason giving huge money to
Carlos Boozer
, plus
Derrick Rose
is only a few seasons away from an extension from Chicago. With $12 million a year locked up in Noah, plus the big money owed to
Luol Deng
, the Bulls will have over half their total salary wrapped up in four players.
And also think about Ken Berger's recent report
about the potential for a new hard cap. Noah's salary could hog as much as a quarter of the Bulls' total payroll and with all the salary and CBA stuff up in the air, maybe it made sense for Chicago to let Noah test the restricted free agent market. But then again, Noah was important enough to them to turn down Anthony, so obviously they weren't willing to risk him next summer.
What's also interesting about Noah's extension is that it probably gives some sort of measuring bar for the
Hawks
to go off of for
Al Horford
's looming extension. Horford has been working actively with the Hawks to get something done and now there's a five-year $60 million deal to base things off of from another center from his same draft class that he competes against.
Is Noah worth $60 million? A few other big men making around $12 million a year are Antwan Jamison,
Andrew Bogut
,
Josh Smith
,
LaMarcus Aldridge
, Nene,
Al Jefferson
and
Chris Kaman
. Is Noah in that category? Not necessarily statistically, but in terms of importance to his team, you could probably say so.