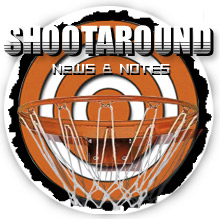 Posted by Royce Young

Andrew Bynum doesn't heal fast. He now says he's out until at least December. But Phil Jackson isn't so sure: "He's been saying that," Jackson said. "I don't know why he's talking about December. He can get weight-bearing activities started at the end of this month. Can you play in two weeks [after that]? Can you play in three weeks? Four weeks puts you at the end of November. So let's just let it happen and not talk about what the timing is."
Benjamin Hochman of The Denver Post: "It is known that Carmelo Anthony wants to be traded to a big market, in efforts to both win a title and maximize his marketability. Sources previously said he was interested in going to New Jersey, a franchise that will move to Brooklyn in a couple of years. Anthony, who has never gone public with his demands, was asked about his marketing prowess, and he said: 'As far as marketing, it comes from winning. If I ain't winning, then nobody wants me to market their product.' So he was asked: 'Then why would you want to play for the team that won 12 games last season?' Anthony then said: 'I never said I want to play for the Nets.'"
Tom Martin of The Dream Shake with a terrific post on Houston's window: "It's too hard to win a championship to get all bent out of shape when that wish doesn't come true. Be patient. Let the pieces fall into place, however long that may take. And for now, hope for a miracle, because if the Rockets get lucky - if they stay healthy and play up to their potential - then it may not take a transaction for all of the pieces to come together. Their luck may not lie in finding an outside source. That's not predictable, but it could happen. They might just have everything they need, right here. Maybe."
The first preseason games were yesterday with the Knicks and Nets both playing. Amar'e Stoudemire dropped 32 in his first appearance with New York as the Knicks beat Milano 125-113. New Jersey beats Maccabi Haifa 108-70 behind 14 points and nine rebounds off the bench for rookie Derrick Favors.
Stefan Bondy of the New York Daily News on Favors' performance: "If you weren't excited enough about Derrick Favors' 14-point, nine-rebound performance tonight, this postgame quote should be all the convincing you need: 'I'd say it was an okay day,' Favors said, without a hint of arrogance, following the 108-70 victory over Maccabi Haifa. Okay? In his first professional game, Favors took eight shots and made six of them. His first shot was an alley-oop dunk. His second shot was a dunk. His third shot was a dunk. He attacked the rim with reckless efficiency, providing a spark and energy to an otherwise listless game. His most impressive dunk didn't count: the 19-year-old jumped OVER a Maccabi Haifa player on the baseline but was called for a charge. 'It's all good,' Favors said. If this trade for Carmelo Anthony fizzles completely, Favors will be the youngest player in team history. It's not a bad way to build a wining franchise."