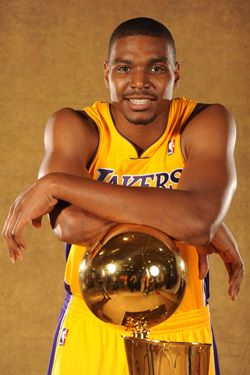 Lakers center probably out till December, continues history of injury recovery struggles. Posted by Matt Moore
Hey there, reader. Listen, I some news to tell you. You should sit down. No, really, you should be sitting when you hear this news. I don't want your legs to give out (fittingly) when you hear this. The shock may be too much to bear. There, now. That's better. Okay, are you ready?
Andrew Bynum
is pushing back his comeback date. I know, I know. It hit us all. News like that just comes out of nowhere and the surprise can be hard on the heart...
I'll stop now.
Like we gave you
a heads up on in the Shootaround
, Bynum spoke to reporters and
pushed back his comeback
to mid-December. This only days after
saying November was the target
. It's a typical development for Bynum, when you look back at his history.
Bynum
was first injured
in January of 2008, and was
supposed to be out two months
. Then he was
not going to be back
for the playoffs. Then
he was
. Then
not so much
. Then
definitely not so much
. Then
he had more surgery
.
Then he took a nap.
.
Then he was totally going to be back the next season. Totally. Well, okay, maybe
not right on schedule
. Then he
had a birthday party
, yay! Then he came back and looked like he was worth the hype. Then he signed
a massive contract extension
, making him one of the highest paid players on a team full of All-Stars and future Hall-of-Famers.
Then,
he got hurt, again
, this time
with a torn MCL
. He was supposed to be back in March from this one,
then it got pushed to April
. Then he finally came back in the 2009 playoffs, but could only play limited minutes. But hey, helped win them a title, so who cares? Celebrate!
Then he famously
stopped working out
with Kareem Abdul-Jabbar, a move that was criticized at the time, but given Kareem's lack of toughness and prickly personality, probably wasn't a bad idea. Next, Bynum had to
have his knee drained
in the playoffs, but, and this should be stressed, he toughed it out and helped the Lakers win a back-to-back title. He dragged that leg around though he was playing on turned out to be a slight tear, played hard, and helped the Lakers' size overwhelm their opponents. This summer, he
had another surgery
after he delayed it so he could go on vacation.
So what are we looking at, here? Long story short, we've got a very young kid who's shown to a. be a very slow healer and b. have a very poor work ethic. Don't take my word for it,
Ask Tex Winter
. The first account is something Bynum could help or should be criticized for. You can't get your body to heal faster. But you can put it in the best position to heal and bounce back as strong as you need to, and that's where Bynum struggles. He famously sloughed off the Lakers' doctors for his own. Now, that's actually probably a good idea, considering that training staff doesn't have a great history with knee injuries. But when your other doctor manages to need multiple surgeries, and you have continuing issues with recovery? There are going to be questions.
Bynum has yet to hit an initial return date. There is a history of problematic recovery issues, on knees that have had multiple surgeries. To call him injury-prone at this point is an understatement.
The good news is that the Lakers can be patient with Bynum. They have enough talent and size on that roster that even if Bynum can only give them limited minutes for years, that's fine. The question is if after this championship dynasty is over and
Kobe Bryant
bids a fond farewell, if Bynum will then be in a position to deserve the extension he signed. Maybe this is the last bump in the road. Maybe he'll prove to be a dominant NBA center night in and night out this season. But if he does, he'll be slipping out of a well-established history of recovery issues. It's not fair, but it's what it is.