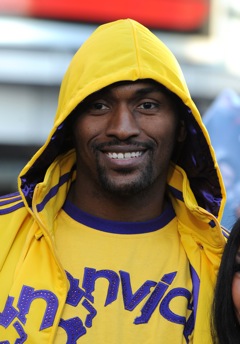 Posted by Royce Young
I haven't really given much thought to life after basketball for
Ron Artest
. But it's really something I should start considering. I mean, what
is
he going to do with himself when he isn't playing hoops?
Artest has an idea and of course, it's a very Ron Artest sort of idea:
"After I'm done with my basketball career, I want to box and I wanna play football – probably tight end position,"
Artest told HoopsHype.
"I've been training for three years for boxing. Probably after this contract, I'll probably do football first and then boxing. I'm definitely serious about those two things I wanna do. I wish I could do it now.
"

We hear the football fallback all the time, but boxing? That's new. And maybe something Artest could be good at. Here's where I insert the video of the Malace at the Palace.

I don't know why NBA players all think they can just lace up some cleats and start playing football. Nate Robinson recently said a similar thing about playing football if there's a lockout (Robinson actually was a pretty terrific high school quarterback though). Lots of NBA players talk about the pigskin as if it's that easy to just go do. Skill wise, football doesn't compare with basketball. Basketball is much tougher. But you've got to have almost a gene to be able to take the physicality of the game. And it's not just that. There's a thousands of terrific athletes that couldn't hack it playing football. It's not something you just pick up and play.

(Now of course my mind immediately goes to the NFL, but Artest might be interested in playing in the CFL or even the European Leagues. Which I'm sure someone would take a PR chance on him then.)

Artest's current contract runs through 2014 with the last year being an early termination option. Artest is 30, so retirement around the age of 34 makes sense, especially if he has plans to try some other things before he gets too old. He said he even wishes he could play them now. I don't know if that means he wishes he wasn't playing ball under contract and could quit or if he wishes he could play on the side. Who knows? But whatever the case, it sounds like Crazy Pills has a plan for life after the hardwood. And a plan that fits him well.