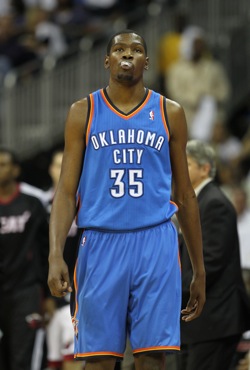 Posted by Royce Young
Look out, NBA. It's beginning to sound like The Durantula is nearly fully operational.
Kevin Durant
has worked hard - very hard - at improving his overall game. He was known as a scorer coming into the league but two years ago, he committed to getting better defensively. And he did. Then this past summer is was about passing and handling the ball. And by all accounts, he's starting to round out.
For instance, last season, Durant played a good amount of power forward as well as his normal small forward and some shooting guard. Over the summer in Turkey, Coach K used Durant some at center. And Friday against the
Heat
, Durant played all five positions. That's right, from 6'10 small forward to a 6'10 point guard. Scary.
"I think that I have an advantage with my quickness against some (power forwards),"
Durant told The Oklahoman.
"It's going to be tougher for me on the defensive end because they're stronger and bigger than me... But I just got to make up for being skinny with my heart. And with me being a point guard... I got to try to make the right play. I'm still working on that. I've got to watch more film to try to make the right play. But all I can say is I'm going to try to work on it."
One of the things Sam Presti has worked very hard to do in Oklahoma City is to create a breathing roster, that's flexible and versatile at every position. He wants players that can move and flow within multiple positions.
Russell Westbrook
can play both guard spots.
Jeff Green
can play both forwards.
Serge Ibaka
can play power forward and center.
Thabo Sefolosha
goes between multiple spots. And Durant can evidently handle all five.
What's the benefit of this for the
Thunder
? For starters, matchups. How does an opponent go about lining up against a group of Durant,
James Harden
, Green, Ibaka and
Cole Aldrich
? Or what about a linuep with Russell Westbrook, Harden, Green, Ibaka, Durant? Or the fact that Scott Brooks could potentially flip Durant from the point to the post on alternating possessions. That makes this Thunder team a tough group to gameplan for.
Of course this isn't a good thing if Durant's not effective. Against the Heat, KD wasn't all that wonderful playing the 5. He's a little light on the muscular fortitude to be completely capable of pushing against
Andrew Bynum
or
Dwight Howard
. But still, OKC has that option.
Positionality has been a fun discussion amongst NBA people over the past few seasons. Is there really a need for defined positions? What is a power forward? What really is a point guard? Does it even matter? And with the Thunder, they're just taking that and turning it around.
Sure, there are positions. Our guys just happen to play all five of them.