Posted by Royce Young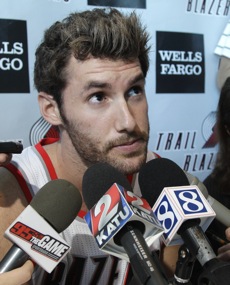 Sometimes, people just don't know when to shut up. And when a penalty of $25,000 isn't enough, that must mean you're probably a professional athlete losing another $50,000 isn't a big deal.
And that's what happened to Blazers' guard
Rudy Fernandez
late Monday as he was tagged with another fine making him a total of $75,000 lighter in the wallet.
Officially, Fernandez was fined the $50,000 for comments "detrimental to the league." Fernandez wasn't the one making them this time, but instead his representation Gerard Darnes who on Oct. 6 made some pretty clear comments about wanting Rudy out of Portland. Darnes was speaking to a Portland radio station about Fernandez and his situation, specifically addressing a newspaper article from
The Oregonian
they didn't like.
During the conversation, Darnes said this:
"You cannot blame him for having the desire to be somewhere else. He has a contract, he's honoring the contract. He's here and playing. He has been very respectful to the fans. That's why he said that on Media Day also. He loves this community. Portland has treated him so well. He thanks the whole organization and the community. He's not saying, 'I don't want to practice.' He's practicing, playing, he's listening to the people cheer him ... Rudy wishes to go home. His personal situation got worse. This change of mind has been produced in four months. His personal situation has been getting worse. There are things that I cannot say publicly, personal situations, that have been getting worse."

When asked why Rudy wanted to go home, Darnes said, "There's friends, there's family, he's a shy guy. He's special." Special enough to pay $50,000 on your behalf, Gerard.
Fernandez's first comments that he was fined for came back on Aug. 19, but thus far, he's doing his job in the preseason for the Blazers. He's played well and hasn't said anything himself publically since August.
Obviously Fernandez still desperately wants out. This might not be the last fine the NBA has to lay down on Team Fernandez. The amount Fernandez has shelled out isn't a massive amount to him yet, but you can be sure if it happens again, the NBA will up the ante again. And at that point, Fernandez might start getting the message.