Posted by Royce Young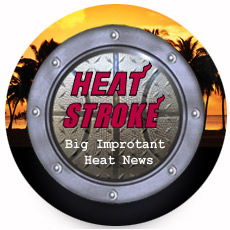 It didn't take long for the Miami
Heat
to try and assert themselves as the dominant South Beach sports franchise. Move over Dolphins game. There's a Heat game to be heard.
WBGG Big 105.9 in Miami carries both Dolphins and Heat games on its airwaves (and classic rock otherwise). Of course there's an issue when both teams play at the same time. And that's what we're looking at right now. On Oct. 31 both the Heat and Dolphins play at 1 p.m.
The Heat have filed a complaint against Clear Channel because the Heat claim that Clear Channel is breaching its contract by favoring the Dolphins and airing their game. From the Hollywood Reporter, "According to the complaint, the team's two-year-old broadcast rights agreement with Clear Channel specifies that if another Florida sports team was granted a rights agreement, the Heat would be entitled to an equivalent package."
You see guys, the Miami Heat are kind of a big deal now. Nobody bumps Dwayne Wade,
Chris Bosh
and
LeBron James
. Nobody! Especially not Chad Henne.
But the Heat have a point. Reportedly there's a clause in their contract that gives them the priority in such a circumstance. And with their new cast of high-profile characters, there's no way they're letting that slide. This is in the first week of the season where interest will be at its peak.
According to the lawsuit, Clear Channel's contract with the Dolphins have the team rights on WBGG-FM plus rights on WINZ-AM, with the right to sell advertising. The Dolphins also (allegedly) got two hours of pre and post-game airtime, where the Heat just got a measely half hour. Supposedly other extras for the Dolphins were tossed in such as outdoor promotions, public service announcements, charitable events and rights fees.
This is kind of an interesting crossroads here. The NFL has been the sporting world's top dog for a while now, always drawing the most attention from people. Now the Heat are challenging the perch the Dolphins sit on. Of course they have a contract that says something important, but the point is that the NBA is now going head-to-head for the right to attention with the NFL.
And who thought what the Heat did was bad for business in the NBA?