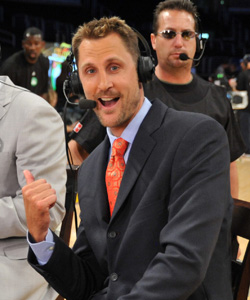 Former NBA guard and NBATV analyst says he's getting tired of hearing everyone's thoughts on the subject they all say they're sick of.
Posted by Matt Moore

You're probably tired of all the talk of LeBron, already. You were probably worn out on the free agent bonanza well before "The Decision" (but you still tuned in!). But imagine if you were involved in the NBA, worked on NBATV and were a former player. Imagine having to be asked about it every single day for the past three months, while everyone decides to talk about how they too felt that it was gross and not cool at all. Now you've got an idea of what Brent Barry has put up with this summer.
In an interview with NBA blog The No Look Pass,
Barry lays out an exactingly well-reasoned approach
to the question of talking about "The Decision" and what's worse, LeBron's production or everyone wanting to chime in on the subject:
"I'm actually getting tired of hearing of what everybody thought about it. But I'll give you my two cents' worth. Obviously, the production of it was a little bit too much. I'm still wondering if I'm more upset about the production of the decision part or the post-production in Miami and the show they put in the arena that was a little bit tough to swallow, too. But I don't fault LeBron for doing what it is that he did and wanting to go someplace else and having the opportunity to play with great players. What you kind of play for is to try to win championships and nobody wins them alone. Every year at the end of the season, we talk about great teams and how players step up as role players. Usually the teams in the past 10-15 years it's always been a collection of three or four star players. That's certainly what they have in Miami and they're going to have that for many years to come. We'll see how quickly they can assemble themselves and if they can actually do it in their first year."
Barry's on target here, in a number of ways. For how obnoxious "The Decision" was, hearing everyone constantly reference it and how much it bothered them has become infinitely more annoying. It's like NBA hipsters have taken over the land and are constantly complaining that your parents keep serving them beef. Go somewhere else for dinner, you filthy ruffian! It's also nice to hear Barry, never considered the alpha dog, not taking the easy bait and going after James for "tarnishing his legacy" or whatever ridiculous nonsense is being spouted about a guy who basically just took a different job offer.
Cleveland fans have every right to feel as torn and upset as they want, to constantly revile LeBron for ditching them on national television and damaging their team, their economy, and their self-esteem. But Barry's right in that nothing James is doing is beyond reason or comprehension, and with the season starting, maybe the rest of us should just accept it without admiration and get on to watching the game.