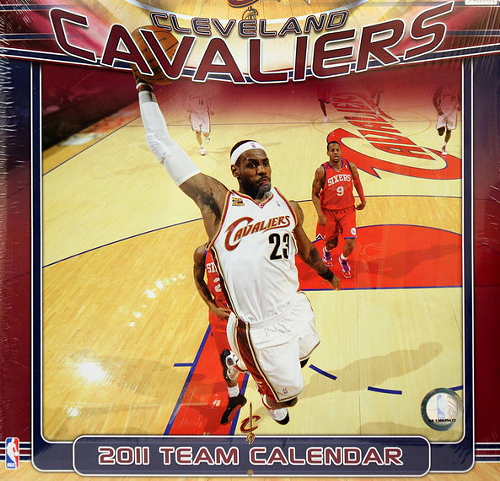 Posted by Royce Young
You know what I'm in the market for? A 1997 Cleveland Indians World Series champs t-shirt. Oh, what's that? OK, well then how about a commemorative picture of Craig Ehlo stuffing Michael Jordan's game-winner? Wait, what? Fine, I'll just take the game ball from Ernest Byner's touchdown run to beat the Broncos in the 1988 AFC title game. Hold on, come again?
Since those don't exist, how about a new painful collector's item for scorned Cleveland fans that you actually can get your hands on. Like this brand new 2011 Cavs calendar.
As a story from the Plain Dealer illustrates,
the printing company Perfect Timing had a pretty big whoopsy with this year's order of Cleveland Cavalier team calendars. The mess-up being that they put recently departed star
LeBron James
on the cover. Yep, that would be an ouch.
It's not really their fault as they put out the original order before LeBron made his decision to go to Miami on July 8. Just bad timing by Perfect Timing I guess. They were able to get a new order out though that now features an actual Cavs member in
Mo Williams
on the front. Then again, I don't know what would hurt more. Replacing LeBron with Mo Williams is kind of just a perfect illustration of how the franchise has turned.
The funny thing is, retailers can't even give the calendars away. You'd think they'd be kind of a cool piece of merchandise to have. An unopened calendar with LeBron dunking? It would be a reminder of "What if?" kind of in a Dewey beats Truman sort of way. But nobody in Cleveland is biting. And who could blame them?
It's kind of become an epidemic of sorts for all Cleveland-area sports retailers. They couldn't know LeBron was leaving and as the most popular figure in the area, they've got tons of stuff. Now that he's gone, everything with his picture, number or name on it basically are considered to have the plague on it. The Plain Dealer story mentions one retailer that sells t-shirts. Instead of trying to unload all the extra LeBron stuff, they've just started going with what sells - anti-LeBron stuff.
The best seller? A shirt that says "Lyin' King" across the front with LeBron's now famous line of, "I've got a goal and that's to bring a championship to Cleveland, and I won't stop until I get it."
So I guess you can toss the extra calendars in a box with all the Tim Couch jerseys, 1996 Cleveland Brown schedule magnets and Cliff Lee and C.C. Sabathia autographs. Just another unfortunate piece of memorabilia for a city that has a pretty nice collection of them.
Via Cleveland Scene